Social-emotional learning has become a large part of every teacher's curriculum. It seems as if more students are coming into classrooms lacking the skills necessary to regulate and cope with their own emotions. Whether it is due to a lack of parenting, emphasis on technology, or just an innate inability to recognize and regulate emotions, is yet to be determined, but either way, as teachers, we know we need to help students in this area before we tackle academic lessons. Here are 12 amazing worksheets to help you do just that! 
1. CBT Triangle Bundle
When students experience unexplained feelings, this worksheet bundle helps them give names to their feelings. They are also provided a blank space to include what caused the emotion. This activity will hopefully help them gain the ability to self-regulate. 
Learn more: Etsy
2. Kids Emotional Awareness Bundle
In order to make the quality of life better for children, they must be aware of and learn how to regulate their emotional states. This awareness bundle includes awesome activities for kids such as; emotion sorting, emotional thermometers, and other simple emotional regulation worksheets that help kids identify their feelings.
Learn more: Etsy
3. Manage Your Worries Ultimate Regulation Worksheet PDF Packet
If you are looking for a variety of simple worksheets, look no further because this pack has a myriad of one-page worksheets ready to print to help kids regulate their emotions in daily life.
Learn more: Etsy
4. Kindergarten Emotions Worksheet
Even the youngest of kids need social-emotional learning. This printable activity is perfect for preschool, kindergarten, and maybe even some immature first-graders. It helps students not only learn basic emotions but allows them to practice colors and coloring.
Learn more: K5 Learning
5. Feelings Journal for Kids
This is a therapeutic activity created to allow kids to track their feelings over time or whenever they need a moment. By allowing repetition, students are able to recognize trends in their emotions utilizing both positive and negative adjectives.
Learn more: Mylemarks
6. Feelings Faces
Sometimes students do not recognize the social cues and emotions provided by others. The faces on this printable feelings worksheet help students identify the correct feelings, which can help tremendously with social skills.  
Learn more: Mylemarks
7. The Present Moment
When it comes to emotion worksheets, this one is probably more appropriate for upper elementary and middle school and is based on mindfulness of present emotions to help kids slow down and realize the importance of now. They are asked a few questions based on their current feelings at the moment. 
Learn more: Education.com
8. Emoji Emotions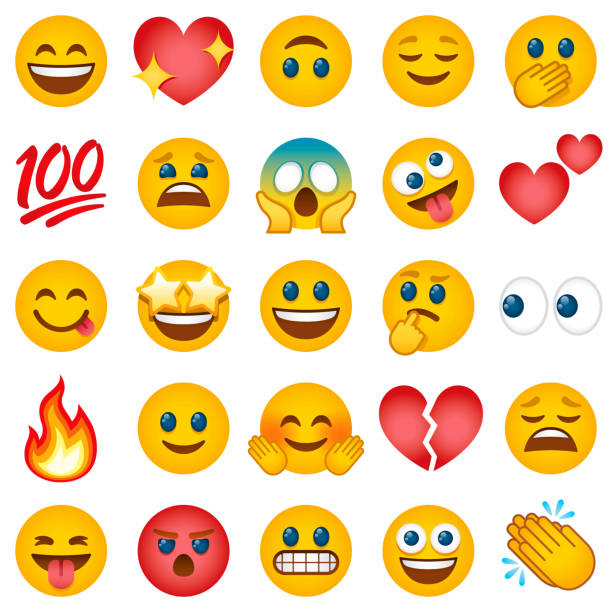 Emojis are a relevant way to connect kids with their feelings. This emotion regulations worksheet PDF helps students understand their feelings as they write sentences to reflect what the emoji so appropriately depicts.
Learn more: Education.com
9. Emotion Scenario Worksheet
When it comes to deciding what emotions one is experiencing, this worksheet presents a variety of scenarios that could possibly happen in real life and provides an opportunity for kids to decide what happened that caused a given emotion. 
Learn more: Worksheet Place
10. Feelings Quiz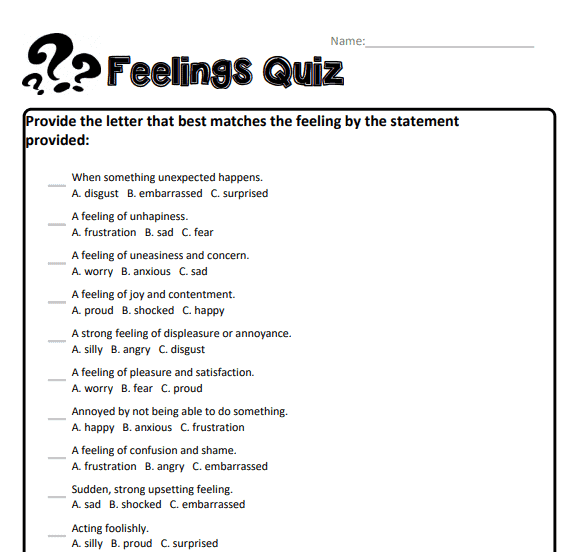 Intermediate and older students can utilize this quiz to pinpoint the correct positive and negative adjectives to describe the feelings associated with the statements provided. This mental activity is a great practice in SEL groups, classrooms, and more.
Learn more: Worksheet Place
11. Kindergarten Feelings
Kindergarten students will greatly benefit from this exercise in identifying the basic emotions as well as the dexterity and phonics rules involved in correctly writing the words under their corresponding pictures.
Learn more: Kindergarten Worksheets and Games
12. Draw Your Emotions
This activity helps allow kids to draw what they are feeling. They are presented with a scenario and then asked to draw appropriate emotions or feelings. This can be modified for any age.
Learn more: Sea of Knowledge

link