Cooperative games are a wonderful way to build a wide variety of transferable learning skills including communicating clearly, problem-solving, overcoming challenges, time management, decision-making, following instructions, and thinking on your feet. While they may require more coordination and group cohesion than competitive games, the added effort is sure to be worth it.
This collection of 40 fun and exciting team-building activities, board games, and physical activity ideas focus on promoting empathy while ensuring children have a great time! 
1. Lego Copycat Game 
In this simple game, kids are divided into groups of builders and messengers. The messengers can see what the first group of builders is creating and has to communicate it to the other group to see if they can copy it by listening to the directions. 
Learn more: Frugal Fun for Boys
2. Fun Game of Spud
Spud is a fantastic game for practicing throwing skills and improving balance while also building spatial awareness. All you need is one playground ball and you're ready to go! 
Learn more: Playworks
3. Family Favorite Spy Alley Board Game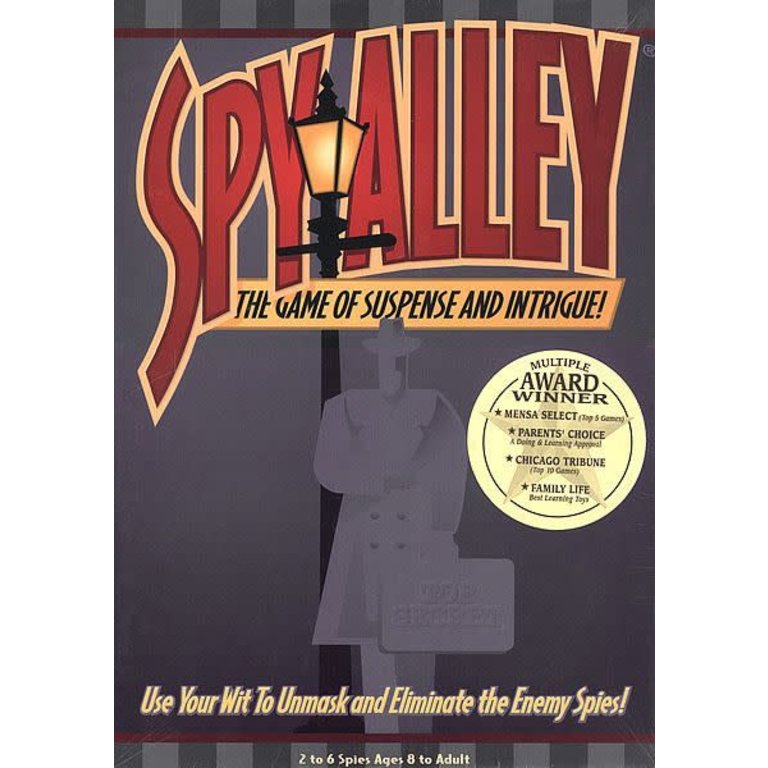 In this cooperative board game, players work in teams as spies and have to figure out their opponent's secret identities through careful reasoning, uncovering clues, and deciphering code books. 
Learn more: Board Games
4. Beloved Game for Kids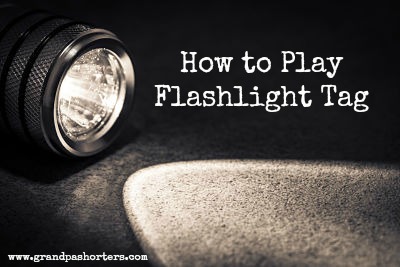 The classic party game of flashlight tag is best played in the dark. Kids are sure to love tagging their friends and shining their flashlight beams before calling out their names. Like all variations of tag, this one builds emotional resiliency and social skills as well as self-regulation and effective communication. 
Learn more: Petoskey Provisions, Gifts, & Wisdom
5. Caterpillar Tag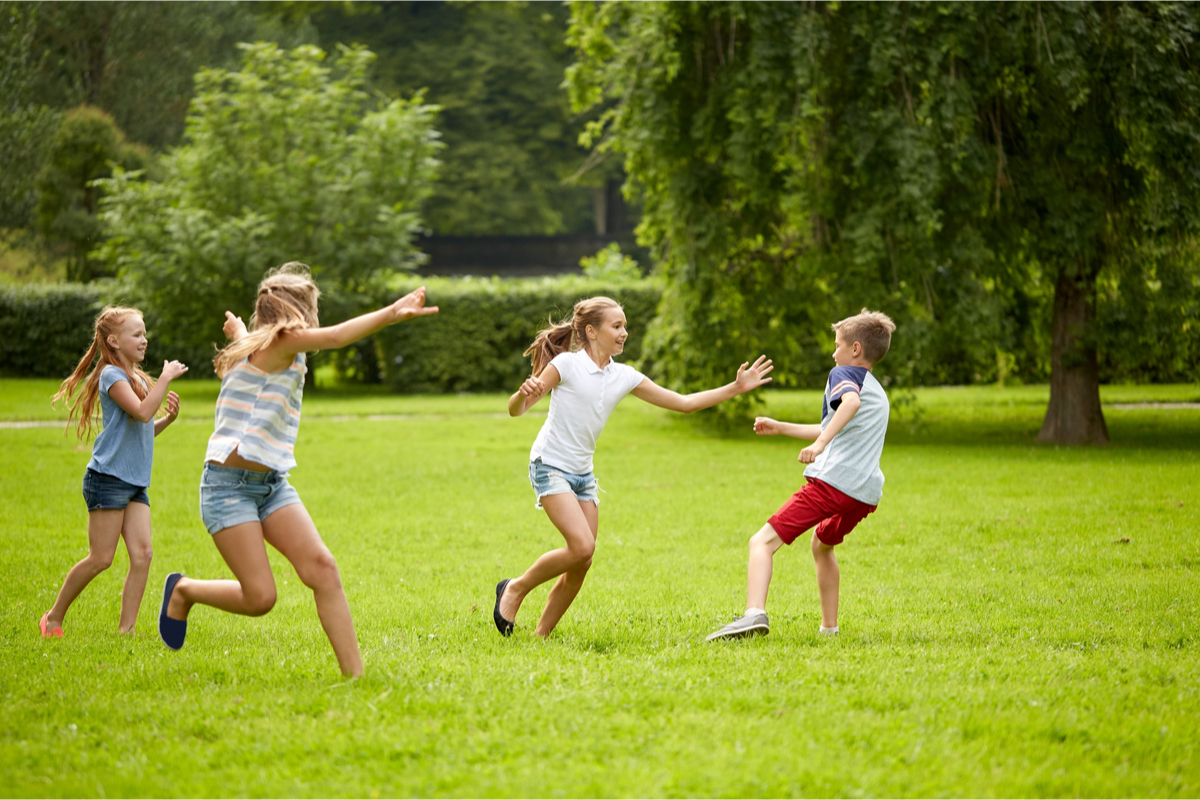 In this simple cooperative game, the chaser tries to tag the last person in the caterpillar line. The caterpillar will try to stay in the way of the chaser, protecting the last person in the line. This is a fantastic game for developing gross motor skills such as agility and balance. 
Learn more: Fit Kids, Healthy Kids
6. Island Cooperative Game
This team game puts players' communication skills to the test as they work together to survive on an imaginary deserted island. Apart from problem-solving and critical thinking skills, it's an easy way to develop creativity and cooperation. You get to decide what kind of resources the island will have and can make this game as easy or challenging as you like! 
Learn more: Mrs. Fintelman Teaches
7. Popular Board Game: Pandemic 
Whether they are scientists, dispatchers, or researchers, players must work together to save the world from a deadly pandemic. This is a wonderful game for developing reading skills while devising survival strategies and basic math skills to understand the various charts and tables of data. 
Learn more: Z-Man Games
8. Play a Game with Hula Hoops 
In this fun game for kids, teams are tasked with constructing a hut with a limited number of hula hoops, before finding a way for their entire team to pass through the hut, one at a time. Why not throw in an additional hoop or challenge players to move backward for added fun? 
Learn more: Lead by Adventure
9. Social Word Game
Master Word makes a great cooperative family board game for fostering engaging discussions among fellow players. The game time and vocabulary used can be increased or decreased depending on the age of the children playing. It's an excellent game for increasing inference skills and developing word recognition and reading fluency. 
Learn more: Coopgestalt
10. Team Build With Tennis Balls
This team-building game encourages creative thinking and physical activity as it challenges players to pass a tennis ball between a group as quickly as possible. Players are sure to enjoy finding clever shortcuts to increase their speed! 
Learn more: World of Work
11. Duck, Duck Goose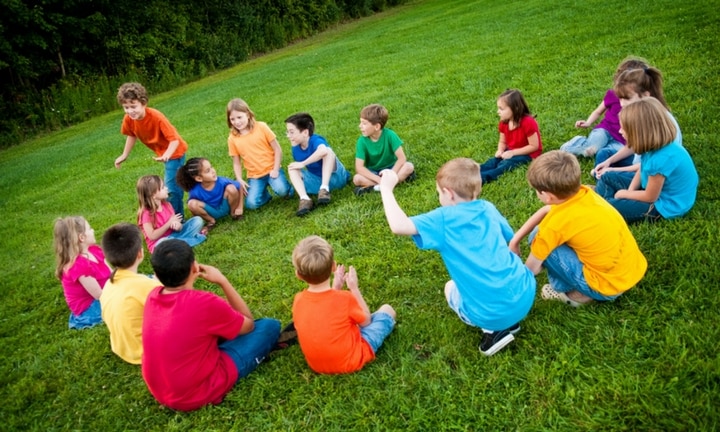 Duck, Duck Goose has been a classic kid's game for decades and with good reason: It requires no equipment and helps develop balancing and spatial awareness skills while making for plenty of laughs and excitement! 
Learn more: Kid Spot
12. Red Rover 
Red Rover is a classic team game, requiring no equipment. One team decides who they want to call over from the other team and the chosen player has to run and attempt to break through the row of students holding hands. Whether or not they succeed, everyone is sure to have a great time! 
Learn more: The Genius of Play
13. Escape Pod Game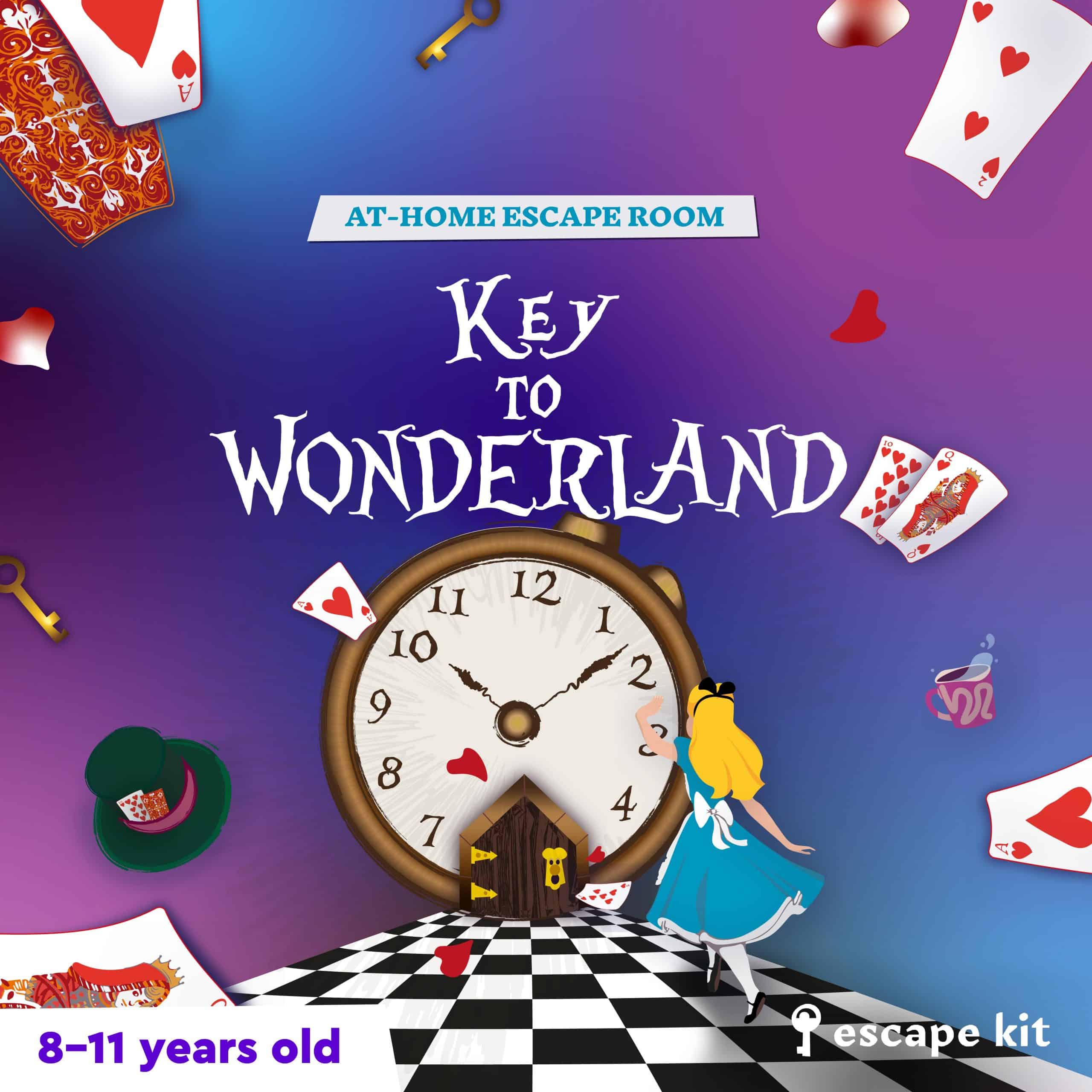 Why not transform your home into an escape room fit for an Alice in Wonderland adventure? This kit includes riddle sheets, suspect cards, challenging clues, and even background music to create a truly immersive experience. Escape games are a great way to develop productivity, improve memory and strengthen emotional bonds. 
Learn more: Escape Kit
14. Beloved Board Game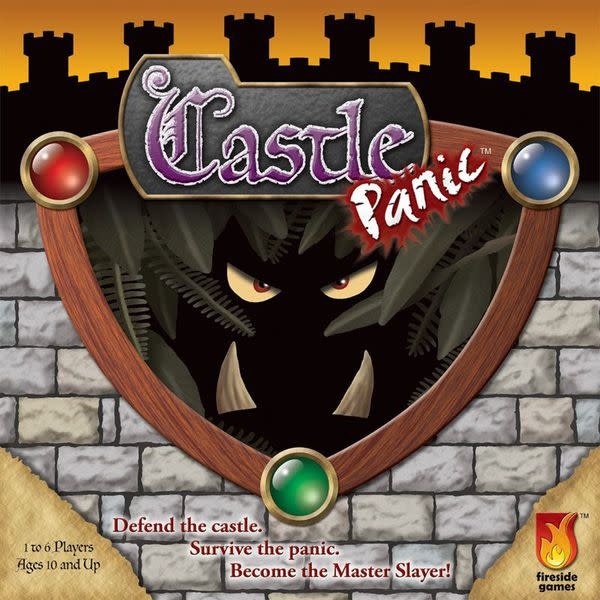 Castle Panic is a fantastic cooperative game where players must band together to achieve a series of goals in order to protect their caste against threatening monsters. The catch is that players can only succeed by contributing to the welfare of their team. 
Learn more: Board Game Geek
15. Storybook Drawing
In this simple arts and crafts-based activity, one student begins drawing a picture of an object of their choice and the others have to add to it, taking turns until they've told a complete story. This is a fantastic game for teaching the elements of narrating such as plot, setting, and characterization, and at the same time, encouraging creative self-expression. 
Learn more: The Inspired Treehouse
16. Cooperative Obstacle Course
In this physically-demanding game, players have to cooperate to make it through an obstacle course. You could try adding trampolines, bikes, tunnels, balancing challenges, and slides, or just use what you have around the house or classroom such as tables and chairs. 
Learn more: What Can We Do With Paper and Glue
17. Cooperative Board Game
Players have to work together to get Max, the bobcat home safely before he is caught by other animals. This game is simple enough to be played by primary students and can be a starting point for a discussion about food chains and animal habitats. 
Learn more: Family Past Times
18. Race to the Treasure Board Game
Who will get to the treasure first- you or the ogre? Players have to use cunning thinking and ingenuity to quickly build a path toward their pot of golden treasure. This award-winning game encourages players to strategize and develop their social skills to win! 
Learn more: Mastermind Toys
19. 15 Seconds
All you need for this classic team-building game are some interesting questions and a timer. Everyone has fifteen seconds to answer a question about a subject of the leader's choice, such as their favorite films, foods, or hobbies. While simple, this is a great game for quickly building rapport between players and creating a more cooperative learning environment. 
Learn more: Fun Attic
20. Codenames
Codenames is a classic word game that challenges players to reveal all the top secret agents without hurting any bystanders or alerting the undercover assassin. It's a twist on charades that requires more concentration and strategic focus. 
Learn more: Ultra Board Games
21. Build a Tower of Cards
Students are sure to enjoy building a tower of cards by sharing ideas and working together towards a shared goal. This STEM-based activity can easily be incorporated into a math or science lesson as students discuss the elements of engineering and architecture. 
Learn more: Education World
22. Balloon Bop
In this fun, active game, players stand in a circle and hold hands. They are challenged to see how many times they can tap the balloon into the air while continuing to hold hands. While simple, it is sure to captivate players and encourage cooperative play! 
Learn more: Responsive Classroom
23. Bandido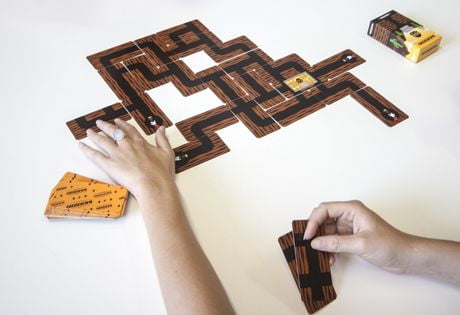 A bandit is trying to escape through underground tunnels. Will your team be able to band together to stop him? The rules are intuitive enough to be understood by younger players, making it a great way to build observation and strategy skills. 
Learn more: Walmart
24. Harry Potter Hogwarts Battle: A Cooperative Deck-Building Game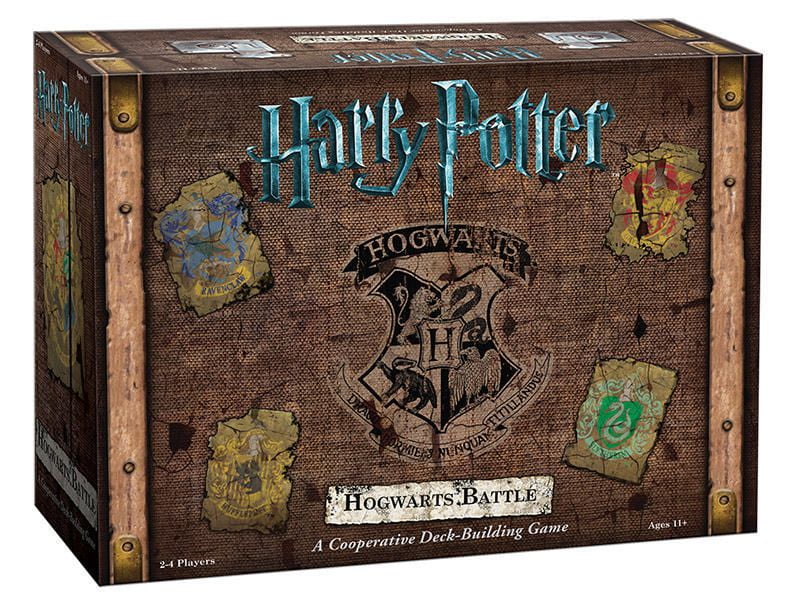 Four students (Harry, Ron, Hermione, and Neville) have to save Hogwarts from the forces of evil. Fighting villains, gaining health points, and joining forces are the only ways to beat the masters of the Dark Arts at their own game. 
Learn more: Best Buy
25. Mysterium 
A group of psychic mediums has to solve the crime by banding together. They have to communicate with a ghost to determine all the details of the murder including the weapon, the location, and the motive. Will they succeed? Only time and a little mysterious intrigue will tell. 
Learn more: Ultra Board Games
26. Smaug's Jewels
Smaug's Jewel is a classic P.E. game that can be played indoors or outdoors and helps develop group communication and strategic thinking skills. One player is designated as Smaug and has to protect the jewels, which could be a ball or pylon, while the other students try and steal the treasure without getting tagged. 
Learn more: The Physical Educator
27. Icebergs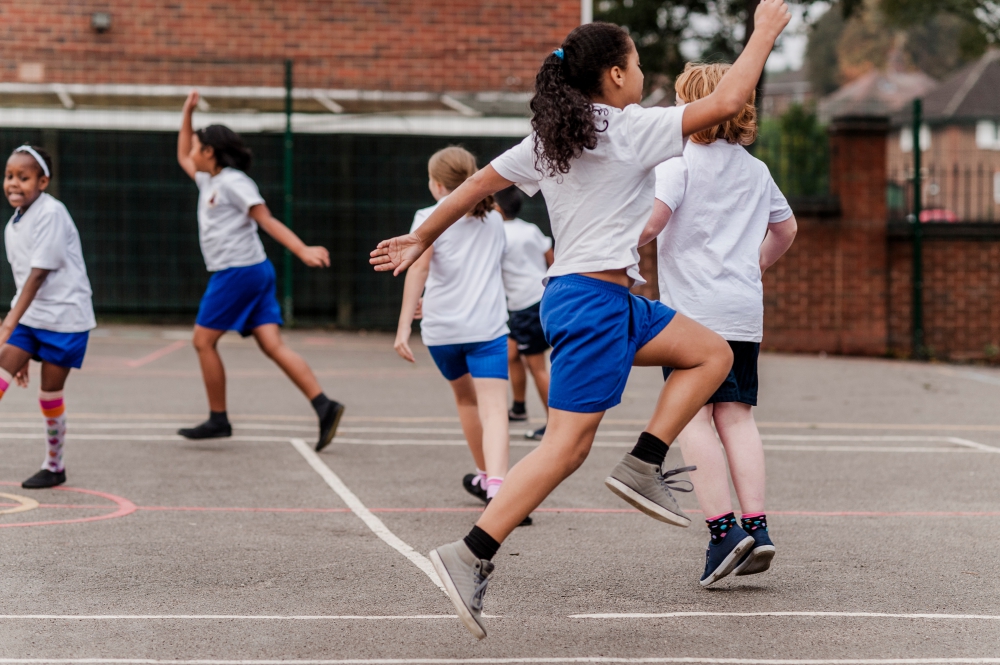 The object of this classic P.E. game is to get onto the iceberg with the correct number of team members. Students will practice organization and group cooperation skills all while getting a challenging workout. 
Learn more: Active Superstars
28. Toxic Waste Dump P.E. Game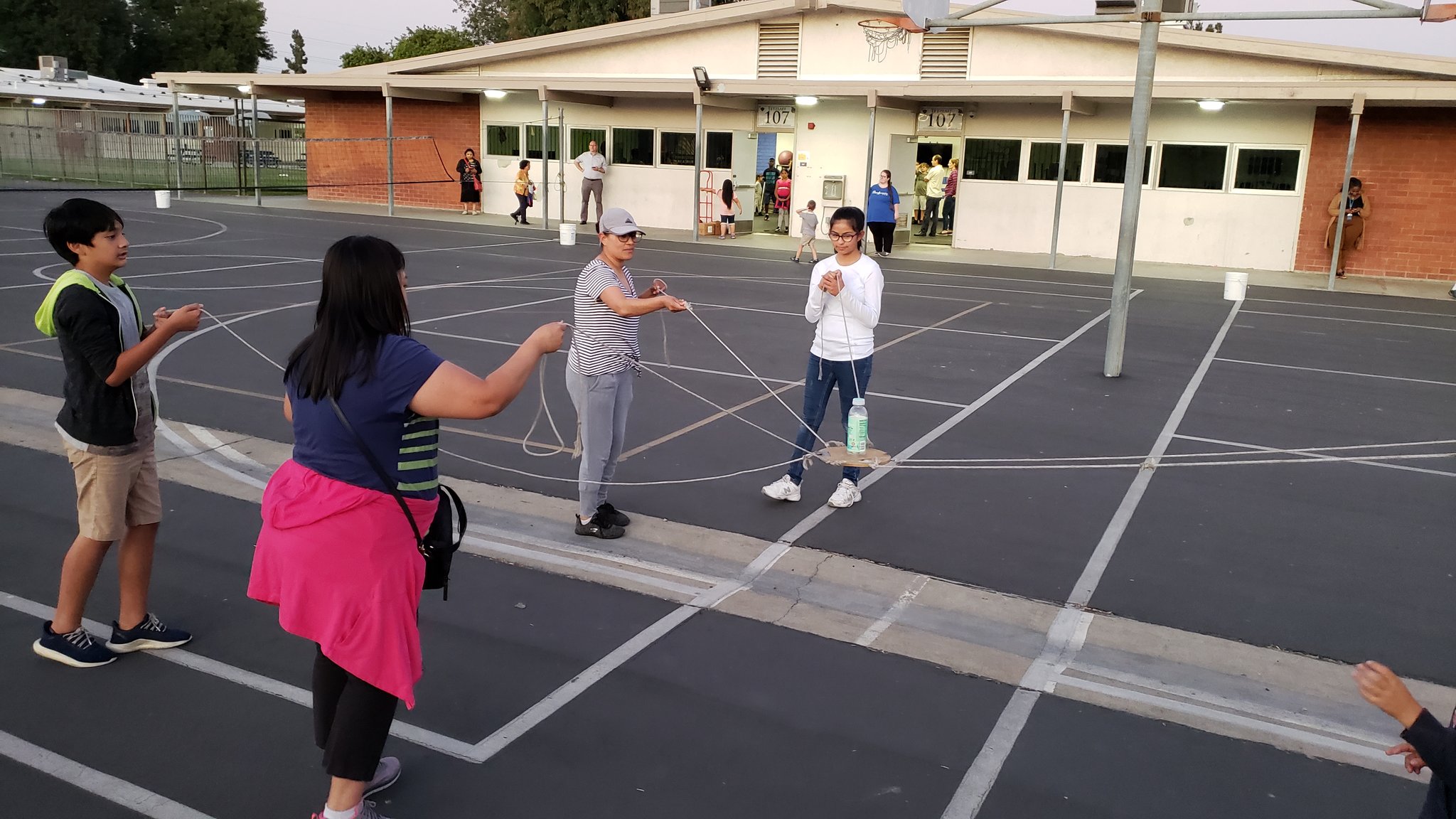 The object of this game is to get everyone from one side of town to the other without touching the toxic waste. It's a fun game of strategy, hand-eye coordination, and agility. 
Learn more: Playworks
29. Caterpillar Riot
The goal of the Caterpillar Riot is to collect as many objects as possible by moving the caterpillar forward with a hula hoop. It's a deceptively simple-looking game that requires a great deal of collective strategizing. 
Learn more: Stef's Phys. Ed Games Binder
30. Race to the Galaxy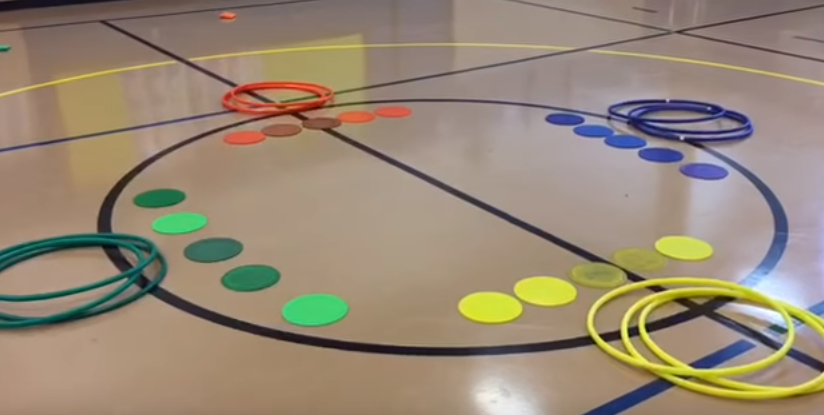 This space-themed game involves hula hoops, placemats, and a galactic storyline that is sure to get players excited! The interstellar planet is almost out of resources (beanbags) and students need to use hovercrafts (hula hoops) to move around collecting fuel. 
Learn more: S&S Blog
31. Hoot Hoot Owl Board Game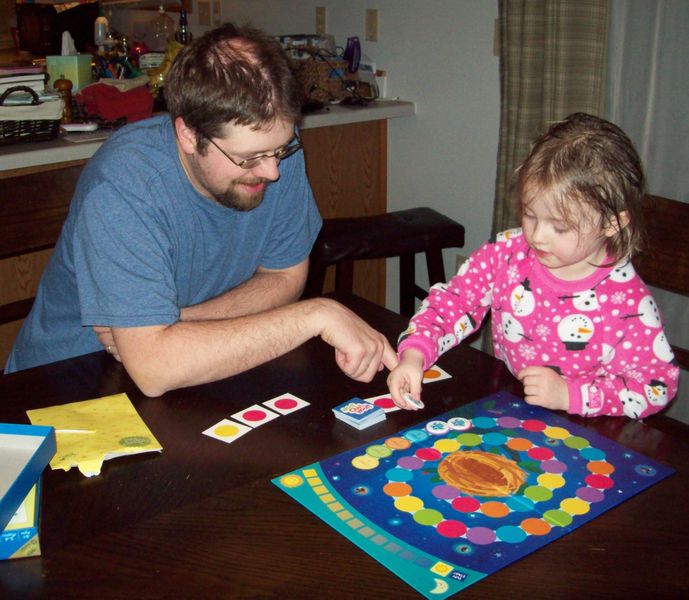 Can young players join forces to get all the owls safely back to the nest before sunrise? Only time and group ingenuity will tell. Kids will learn how to follow directions and take turns while building their self-esteem and creating a sense of community. 
Learn more: Board Game Geek
32. Tell Me a Story Cards
This imaginative storytelling game consists of animals who can sing and dance and allows for an infinite number of creative new stories to be told each time. Why not have them write the story down or read it aloud for added practice? 
Learn more: Eeboo
33. Hanabi
In this inventive game, players have to work together to put on a spectacular fireworks show. They are sure to love launching the rockets in their final ensemble performance! 
Learn more: Games.ca
34. Wheelbarrow Race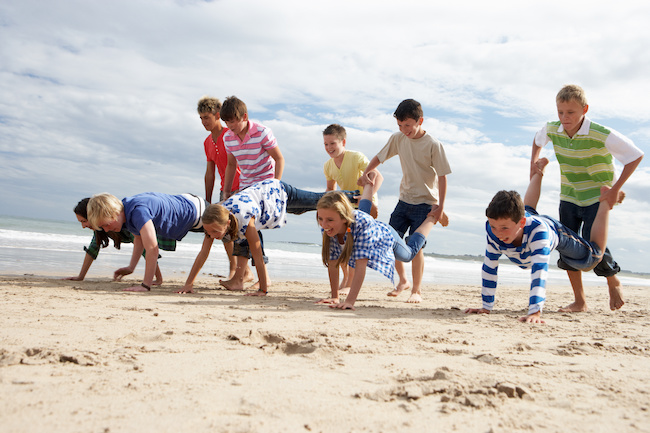 Wheelbarrow race is a classic game that encourages kids to work together to get to a designated finish line. Having a common goal helps develop empathy and makes the game a lot more fun!
Learn more: Party Games 4 Kids
35. Human Knot Game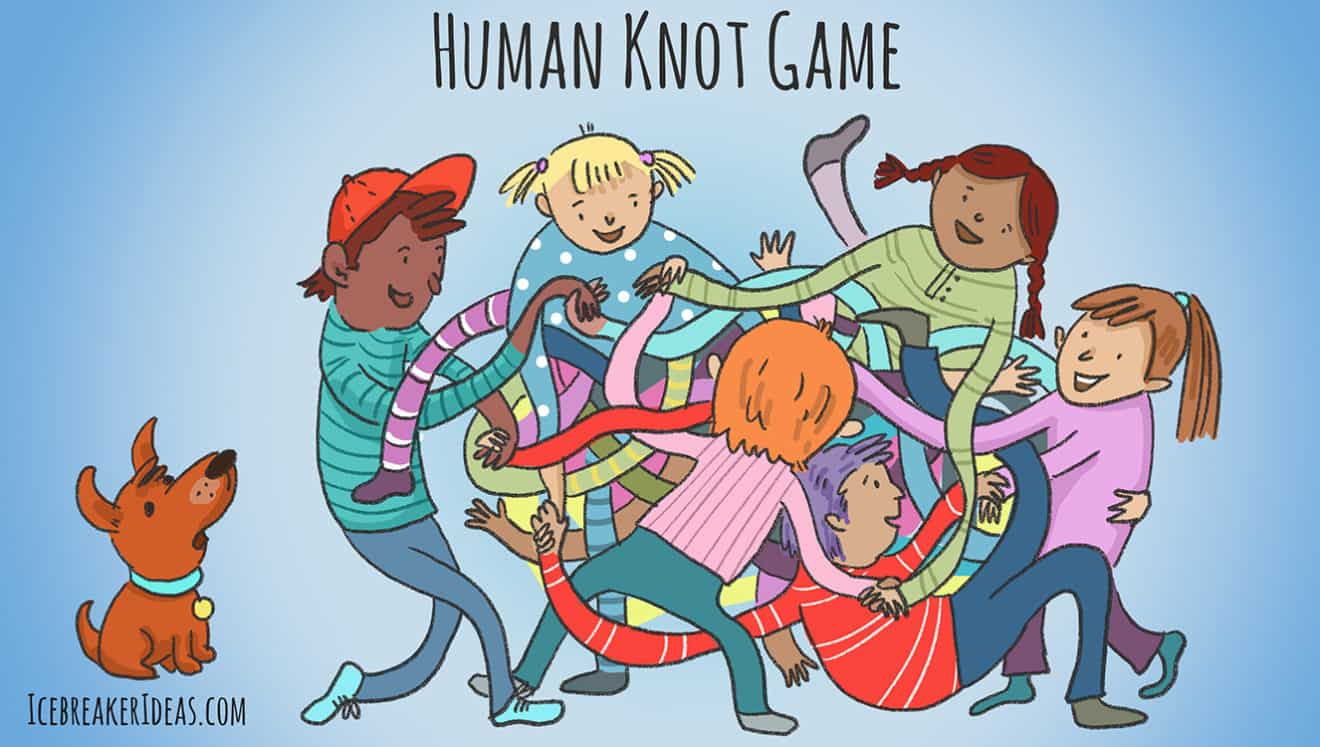 The Human Knot is a popular cooperative game that has been around for a long time. Team members have to untangle themselves from a knot of hands without breaking their grip. It makes for a tricky challenge no matter how many times you play!
Learn more: Team Building
36. Water Balloon Pass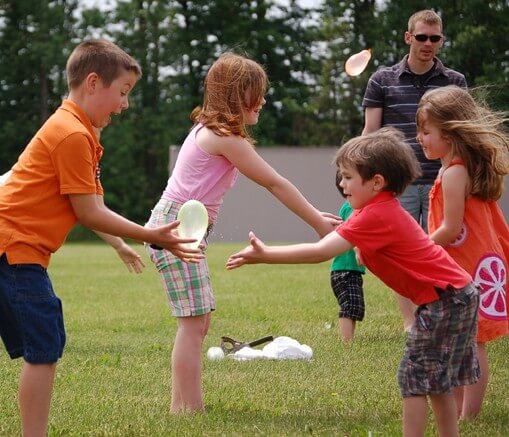 The objective of this fun, outdoor game is to catch the water balloon before it hits the ground. Participants continue to move further and further apart until someone finally drops the balloon!
Learn more: Fit Kids Healthy Kids
37. Pass the Frog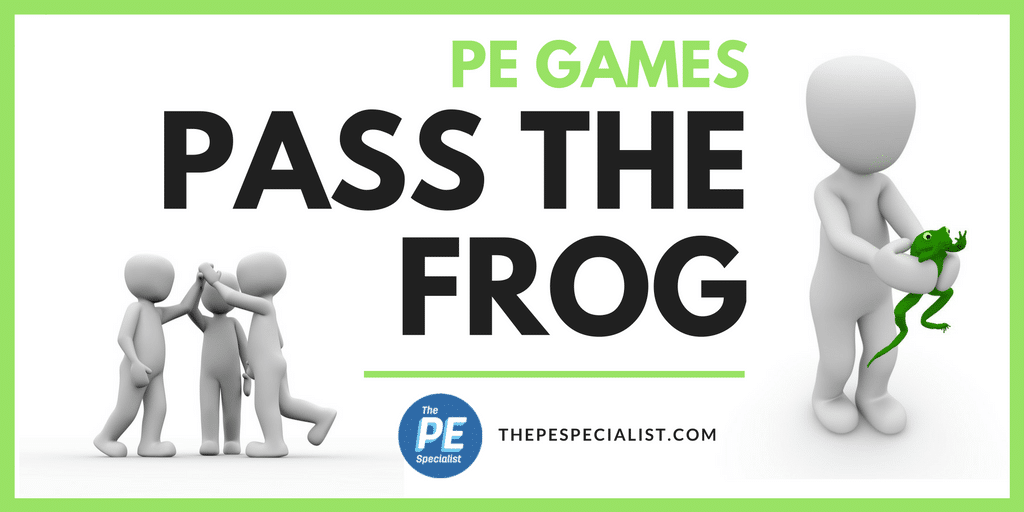 This easy-to-organize game has many variations, but the basic premise is that students must work together to get a frog around the circle as quickly as possible using different body parts such as hands, elbows, or knees. 
Learn more: The PE Specialist
38. Feed the Woozle 
Kids are sure to love feeding silly snacks to this ferocious monster. This is an excellent game for building fine motor skills, dexterity, and body awareness as well as developing verbal communication, counting, and basic numeracy skills. Building self-esteem and a growth mindset couldn't be easier! 
Learn more: Amazon
39. Llamas Unleashed
This barnyard-themed game features llamas, goats, rams, and alpacas who are running wild and need to be collected and brought back to the farm! 
Learn more: Unstable Games
40. Fingertip Hula Hoop Game
In this creative team-building game, students have to stand together in a circle with their arms raised above their heads and lower the hula hoop to the ground using nothing but their fingers without dropping it. 
Learn more: Meraki Lane

link