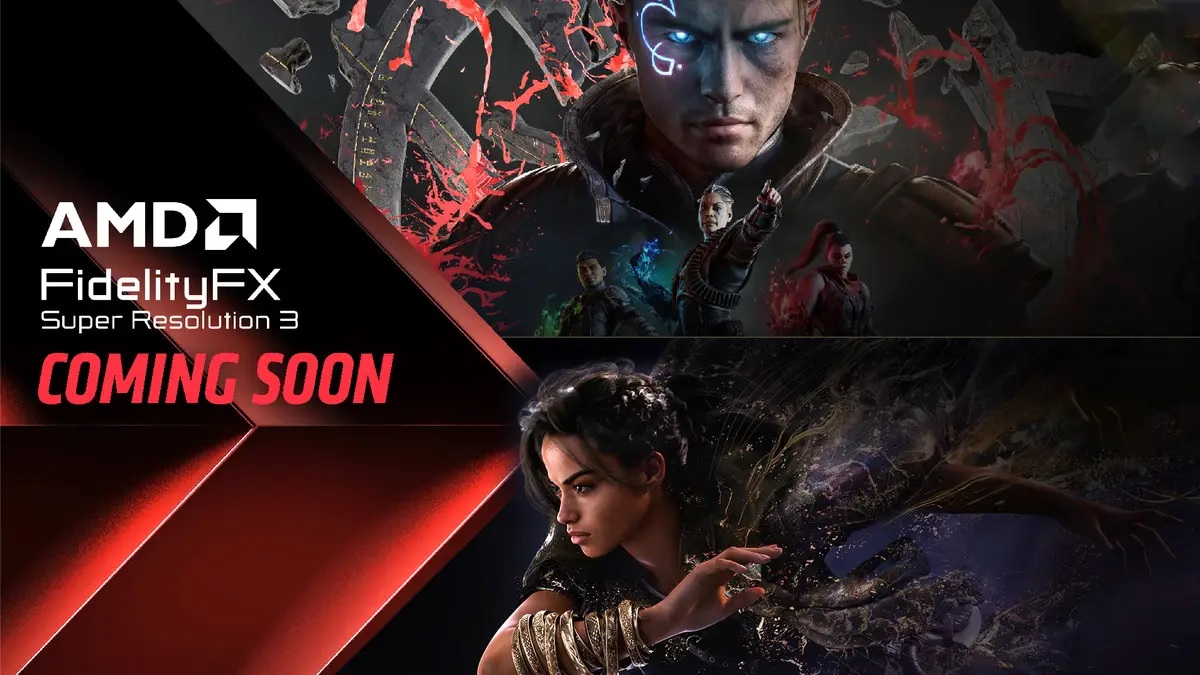 In the late hours of yesterday evening, AMD's Frank Azor confirmed that the company's FidelityFX Super Resolution 3 (AMD FSR 3) technology would be launching later today. Two games will be receive support for AMD's FSR 3 technology, and those games are likely to be Forspoken and Immortals of Aveum.
After today, we can expect more and more games to receive support for FSR 3, adding AMD's "Fluid Motion Frames" frame generation technology to a veriety of new games.
We are working with our partners to bring you the first 2 FSR3 enabled games tomorrow. More titles will begin ramping-up thereafter, as we saw with prior versions of FSR, which are now supported in over 300 announced games @amdradeon @AMDGaming

— Frank Azor (@AzorFrank) September 28, 2023
What is FSR 3
FSR 3 is AMD's newest addition to their FidelityFX Super Resolution (FSR) suite of technologies. With FSR 3, AMD has added a frame generation technology called "Fluid Motion Frames" into their FSR technology suite. This addition generate interpolated game frames to place between traditionally rendered frames. This makes games appear more fluid and appear to run at higher framerates.
With FSR 3's Fluid Motion Frames technology, games can receive up to a 2x performance boost. When used in tandem with the company's FidelityFX Temporal Super Resolution technology (which launched as FSR 2), even larger framerate gains are possible. Below, AMD has shown Forspoken's framerate get boosted from 36 FPS to 122 FPS using FidelityFX Super Resolution and AMD Fluid Motion Frames.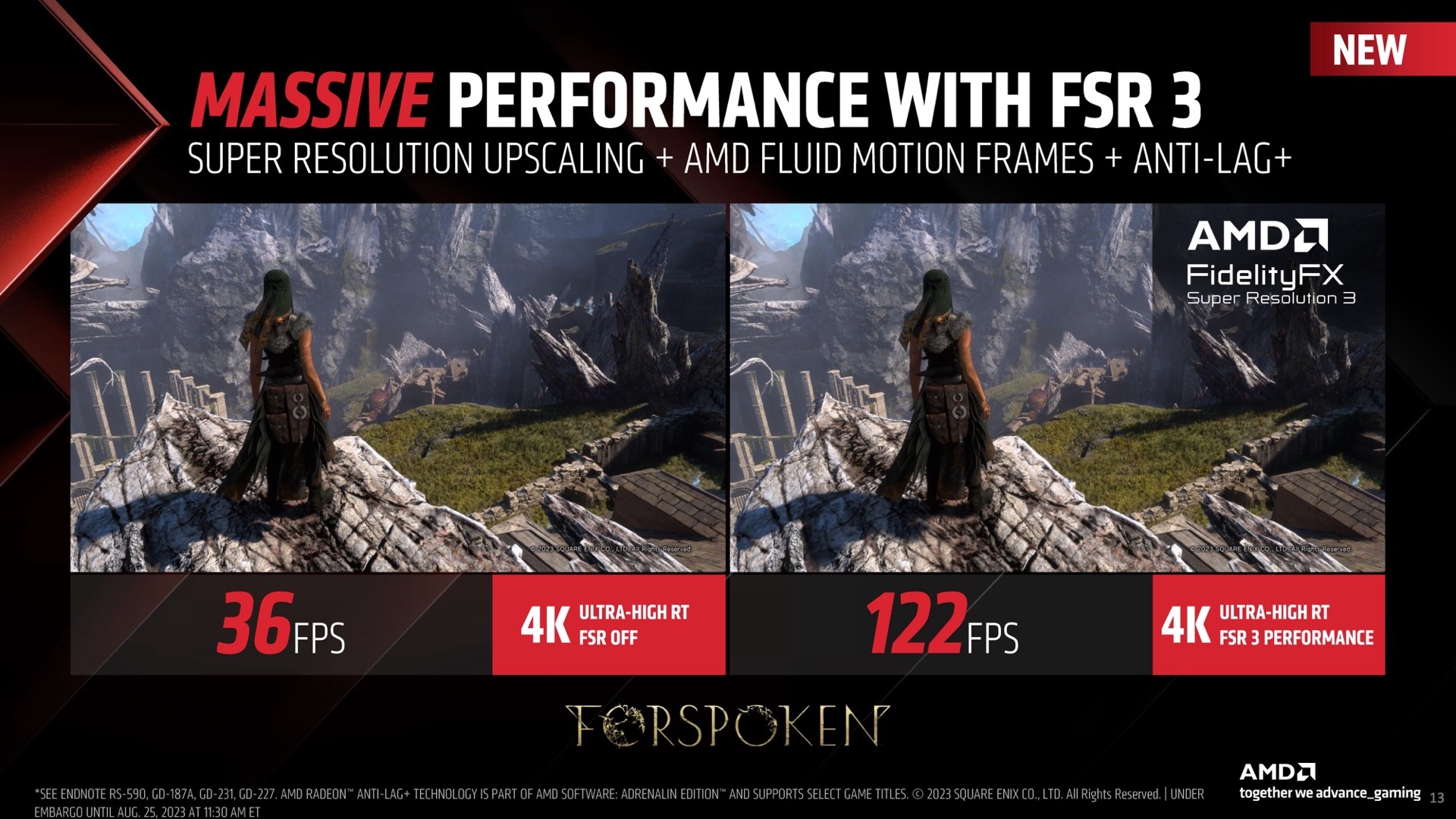 What are the hardware requirements for FSR 3?
Like all previous version of FSR, FSR 3 will be open source, and it will be supported on non-Radeon GPU hardware. This differentiates AMD's technology from Nvidia's as Nvidia has made DLSS 3 exclusive to GeForce RTX 40 series GPU owners, a small subset of GeForce users.
AMD has confirmed that FidelityFX Super Resolution 3 and its "Fluid Motion Frames" technology will be available to gamers on PC and consoles, opening the door to FSR 3 support on Xbox Series X/S, PlayStation 5 and future consoles. That said, AMD has released a list of "Supported" hardware. This signals that FSR 3 may not run well on older graphics cards.
FSR 3 is an open technology that does not require Machine Learning hardware capabilities to function. This allows FSR 3 to run on a huge variety of GPUs. That said, FSR 3's performance depends on the hardware capabilities of graphics cards. This means that users of older GPUs may see little to no performance gains with FSR 3.
AMD has stated that their Radeon RX 5000 series and Nvidia's GeForce RTX 20 series will support FSR 3. That said, AMD recommends using the feature with Radeon RDNA 2 and RTX 30 series or newer GPUs. Older GPUs will support FSR 3's upscaling component, but may not run well with FSR 3's Frame Generation component.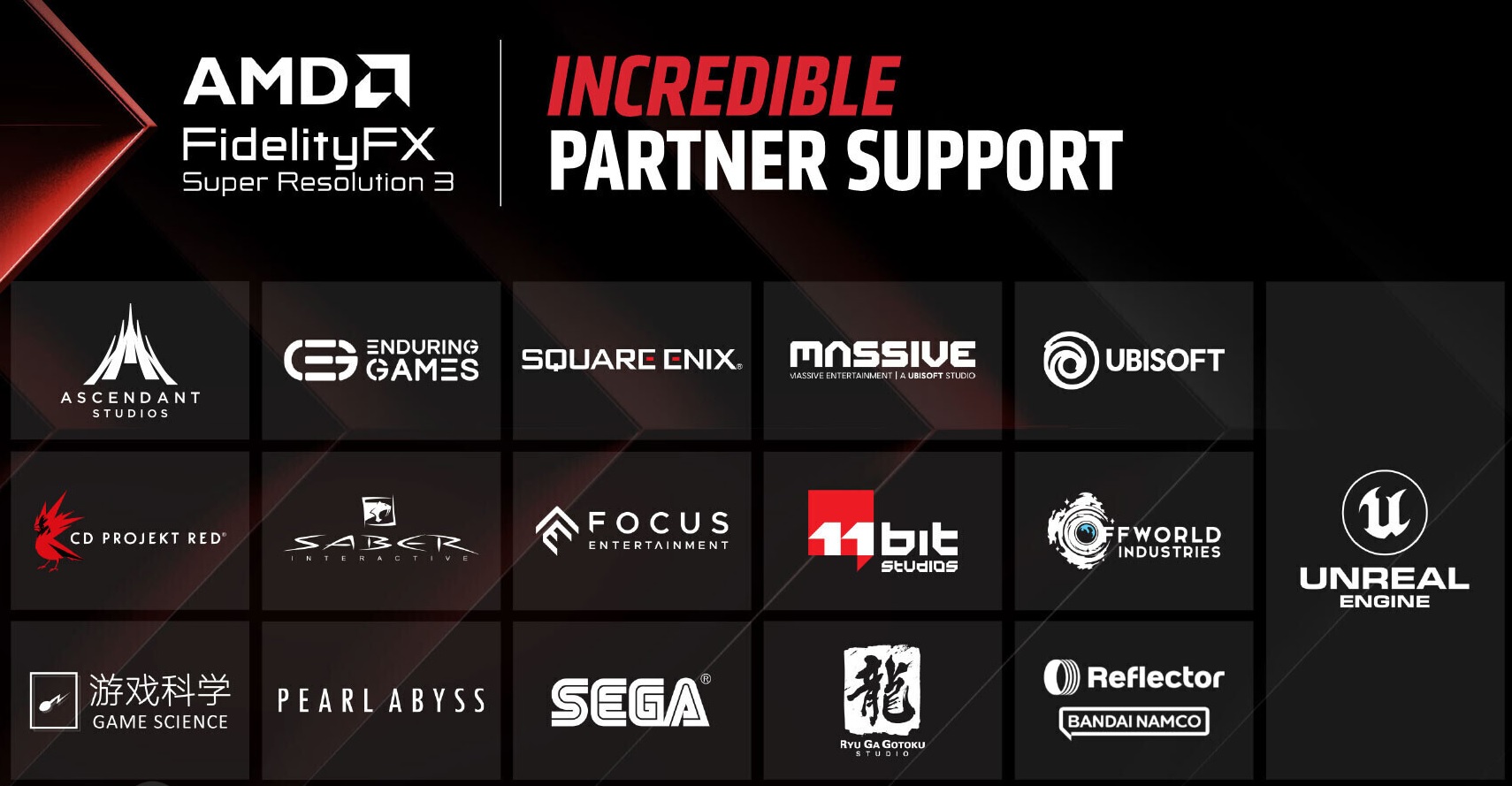 Planned game and partner support
AMD has confirmed that FSR 3 is coming to a lot of upcoming games. This includes Warhammer 40K: Space Marine 2, Avatar: Frontiers of Pandora, Like a Dragon: Infinite Wealth, Wukong, and more. Existing games like Cyberpunk 2077, Forspoken, and Immortals of Aveum will also be updated to support FSR 3.
Alongside game support, AMD has also revealed strong partner support for FSR 3. Square Enix, Ubisoft, Saber Interactive, and many developers/publishers have pledged to support the technology.
You can join the discussion on AMD's FSR 3 Technology on the OC3D Forums.

link