What are the best toys to teach children and young adults coding, programming, and other STEM (Science, Technology, Engineering and Mathematics) skills in a fun way that will actively teach them the new technology skills they will need for the jobs of tomorrow?
We look at the best toys or games that help children understand the basics of coding, and expand their STEM knowledge through play. Robots are popular, and many of the toys don't require screens, which is probably not what parents would expect for this subject.
There are toys, games, electronics kits and robots for all ages. Keep reading to see some of the best on offer.
Coding and programming are now part of the national curriculum, in order to solve the "skills gap" between the number of technology jobs and the people qualified to fill them. ICT (Information and Communications Technology) has in the past been dominated by dull tutoring of how to use a word processor or PowerPoint and has been replaced by a new "computing" curriculum including coding lessons for children as young as five.
This will appear most scary not to Little Johnny or Jane (with their open minds, inquisitive natures, and love of anything with a keyboard and screen) but to parents who have coding skills equivalent to those of their grandparents—i.e. none.
Coding is really just a sequence of events. When placed in the right order, the correct action happens. When the order is wrong, usually nothing occurs.
For the purposes of this feature, we are describing some products as "toys" or "games" when they are or can be actually a whole lot more. We've described them this way because we're looking at products that kids will want to play and interact with.
For those kids who might be a little less analytical, there's STEAM, which adds the Arts to STEM for more artistic creativity.
And look out for STREAM, which stands for Science, Technology, Robotics, Engineering, Maths.
Not all are computer-based or even require batteries. 
If they think that the Educational Thing is a toy they are more likely to play with it, rather than just do it. Learning through play is one of the best ways of picking up new skills, and overcoming what can at first appear rather daunting educational challenges. If you're looking for something less kid-focused though, take a look at our broader guide to learning to code.
For even more STEM toys check out the range at John Lewis (UK) and Walmart (US)
Osmo Coding – Use Physical Blocks With Your Tablet To Learn Coding
Pros
Works with iPads or Fire tablets
Range of games
Price When Reviewed:

$129.99
Ages: 5-12
One of our favorite and innovative kids' games for the iPad and now Fire tablet is Osmo, which uses a fun Montessori-like method to teach via physical objects—not normally what you'd expect from an tablet game.
Osmo consists of a Base unit that you slot the iPad or Fire tablet in portrait mode, and a little plastic mirror cap that fits over the camera so the iPad can 'see' what's happening on the table below. This "Reflective AI technology" allows kids to play with physical items in the real world while still benefiting from the power of iPad technology.
There are several wonderful Osmo games, which we really recommend you take a look at. The latest set of games is Osmo Coding, which are designed to teach coding to kids aged 5-12.
Osmo Coding uses the brilliantly simple Osmo game system. Osmo's team is made up of former Google software engineers, so you can be sure that these guys know what they're doing when teaching to code.
Each physical code block contains a unique command (walk, change direction, jump, grab) that can be sequenced with other commands. Combined with parameter, loop, and boolean (if-then) blocks, kids can easily make complex sequences for character Awbie to follow.
Players can see the effects of the coding blocks in real-time before running the actions. It's like (visual programming language) Scratch meets Lego.
The Osmo Coding Starter Kit includes the Base unit that can be used with all the other Osmo games (maths, drawing, shapes, and more). Add-on game Coding Jam lets kids code to create music.
Sphero Bolt – A Programmable Robot Ball
Price When Reviewed:

$149.99
Ages: 8+
Kids love robots and it's hard to find a more playful one than the Sphero, a robot ball that you control via various apps on your smartphone.
Sphero Bolt is a translucent version of the robot ball (about the size of a tennis ball) that packs loads of sensors and a programmable LED matrix, but any of the Sphero models will work with the iOS or Android app – including the much cheaper Sphero Mini, or, if you can get your hands on them, the Star Wars droids including BB-8, BB-9E, and R2-D2.
It's this app that uses a Scratch-like coding environment that lets you set simple commands to roll, flip, spin or change the color of the ball. You can dig into the C-based OVAL programming language if you're more of an advanced programmer but the block-based coding is easy enough for coding beginners.
The latest version (using Sphero Edu) lets you program Sphero robots with JavaScript, the most common web programming language in the world.
You drag-&-drop actions (color, spin, move, change the angle of direction, speed, etc) in simple blocks from the app's menu, and these commands lock together in whatever order you decide. Changing that order is as easy as moving the blocks around the screen.
There are plenty of sample programs to get you started, and you can change these to quickly get the hang of things. It's a lot of fun, and a brilliant starter for kids who like to keep moving while learning.
Read our full
Sphero Bolt review
Coding Critters MagiCoders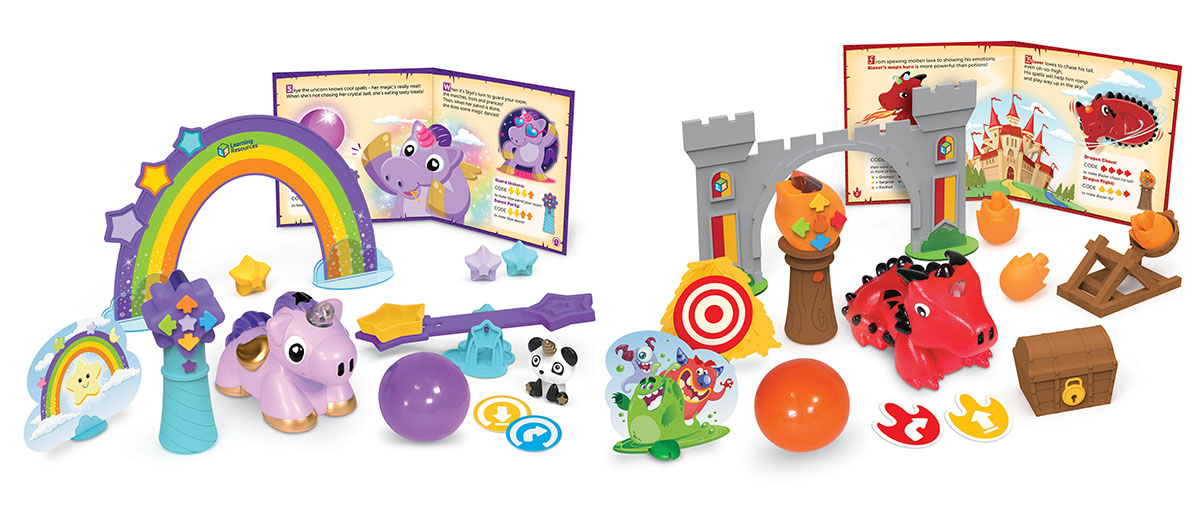 Price When Reviewed:

$54.99
Ages: 4+
Learning Resources MagiCoders Coding Critters brings a creative, sensorial and magical perspective to coding and STEM. With a spell book you can cast spells on Blazer the Dragon or Skye the Unicorn and you can also design your own limitless coding challenges with the 22-piece pet playset (including a treasure chest, large ball, fireballs, a castle piece and many more). It's great for teaching children spatial awareness, sequential logic and basic coding skills.
The well-crafted, colorful beasts can do many things. Blazer can follow a ball, patrol the area, dance, turn their horns into a volcano (Blazer) or rainbow (Skye), change their moods (grumpy, angry, surprised, tired, excited, silly), chase their tails, sing, make themselves shy and take a nap. Both can be fed treats through code.
Parents have said there has been a great reaction from their kids, they want to play again and it is easy for the children to use and remember. It is also great for the imaginations of kids while teaching them how to code; the noises and visuals are entertaining.
Amazon sells both versions: Blazer the Dragon and Skye the Unicorn.
If your child prefers robot vehicles to fantasy animals, Learning Resources also offers Switcheroo Coding Crew, an obstacle-avoiding screen-free coding game featuring a modifiable vehicle (police, fire or construction) with a 46-piece interactive town play set. The robot is programmed by the child (4+) to solve rescue challenges by simple coding. Available from Amazon.
Review by Lexi Jary.
PlayShifu Tacto Coding – Tablet-based coding adventures
Pros
Works with iPads and tablets
Price When Reviewed:

$49.99
Ages: 4-10
Designed and created by coder parents, Tacto Coding connects to your tablet, on which kids can interact using figurines on three different story-based games with over 200 challenges via the free app.
It focuses on more than just direction-based coding, incorporating the fundamental concepts of coding: inputs-output, loops, sequencing, decomposition, and branching.
This is a game that grows with the child as they become more attuned to these coding basics, hence the wide age range.
There are two frames and five figurines (draw, rotate, slide, and two-function figurines).
Tacto works with a range of tablets: iPads 5 and later, Android tabs 7-inches and above, with a minimum of 2GB RAM, Fire HD 8 (2018, 2020), and Fire HD 10 (2021).
Let's Start Coding Code Rocket
Cons
No phone or tablet support
Ages: 6+
While this codeable rocket doesn't actually take off, it could launch a child into the world of coding. Kids start to code with blocks languages such as Scratch, Hour of Code, or Blockly, and then can move to text-based code (C++) just like NASA's coders–all using this fun kit, which includes a rocket with built-in LED lights, buttons and speaker.
Using a Windows, Mac or Chromebook computer, child coders can control the rocket booster LEDs and deep space headlights, have fun with the laser blasters with sound effects, Morse code light and sound messages, and start the countdown to lift-off sequence.
Botley The Coding Robot 2.0 – A Great First Proper Coding Toy
Pros
Fun, active learning
Screen-free
Price When Reviewed:

$64.99
Ages: 5-9
The winner of an Innovative Toy of the Year Award in 2019, Botley The Coding Robot is aimed at kids 5-9 (EYFS & KS1). The latest version, Botley 2.0, adds new features, such as advanced object detection function, and the ability to put on a colored light and dance show.
Kids learn basic programming skills via step coding and logic by getting the robot to manoeuvre and turn, avoid and move objects, plus make sounds.
A great benefit is that it's screen-free and very Montessori in its tactile nature.
Botley 2.0 can be programmed to create a sequence of up to 150 steps in six different directions. It has a sensor underneath that allows it to follow a black line created with the included 40 coding cards, plus object detection.
16 interactions can transform Botley 2.0 into many guises, including a train, police car or ghost. Its eyes even light up in the dark.
A larger 78-piece Botley 2.0 Activity Set includes remote programmer, detachable arms, six double-sided boards, stickers and 27 obstacle accessories. It comes with two "face masks" (no, not that type) so it can have different looks in orange or blue. 
Petoi Bittle Robotic Dog – sophisticated quadraped robot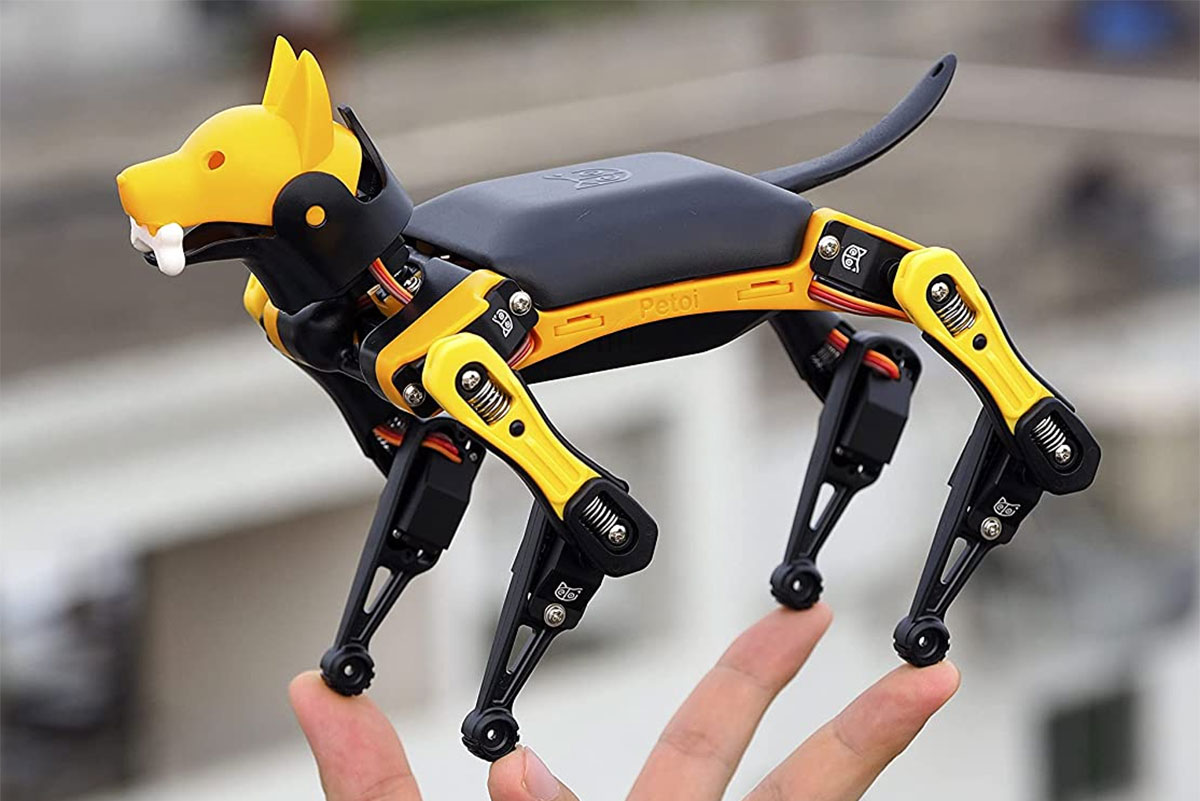 Pros
Sophisticated but fun robot
Multiple coding languages
Cons
To use simplest code you need to downgrade firmware
Price When Reviewed:

$269
Ages: 14+
Bittle is a palm-sized (200 x 110 x 110mm; 7.9 x 4.3 x 4.3-inch; 290g) ultra-manoeuvrable programmable four-legged robot dog that can walk/trot/crawl, sit, do tricks and roll around—it can even cock its leg up and pretend to pee!
It might seem expensive, but for this level of quadraped robotics, the price is more than reasonable. There are much more basic robots for younger kids or less-deep wallets.
Bittle can be configured, callibrated and controlled using Petoi's mobile app (iOS and Android) and Bluetooth. Raspberry Pi fans can mount into Bittle's NyBoard motherboard and allows the robot to analyse more data. Nine servo motors are used to actuate Bittle; eight for the walking joints and one for the neck.
Bittle is operated in OpenCat, an open-source quadruped robot platform that offers many programming and customization opportunities. Coding starters are catered for as it supports CodeCraft, an easy block-dragging coding language based on the popular Scratch. Older coders can use Python and C++ languages. To access CodeCraft, users need to downgrade the firmware to OpenCat 1.0, which isn't difficult but parents might not be delighted by the task. It comes with demo codes so you can get used to controlling the dog before writing your own in code.
Construction is fairly simple and takes about an hour, but a pre-built version is also available. If you want a top-end manoeuvrable robot that helps out with teaching coding and robotics, Bittle is a rewarding investment.
PYXEL A Coder's Best Friend – robot dog teaches coding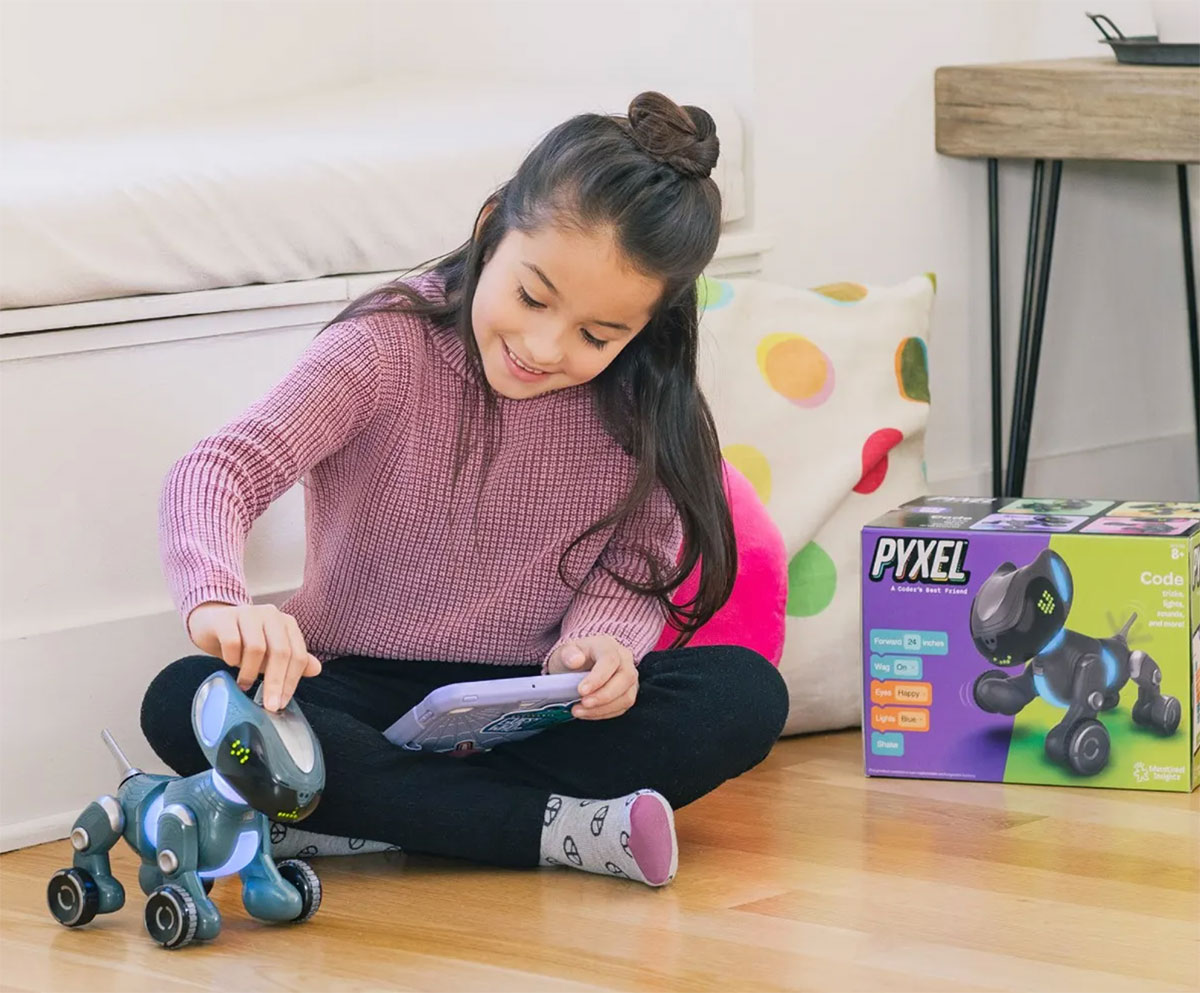 Pros
Cute robot dog
Teaches basic to advanced coding
Price When Reviewed:

$150
Ages: 8+
PYXEL, aka "a Coder's Best Friend", is a rechargeable interactive coding robot pet that helps children learn coding from entry-level Blockly (a Scratch-like programming language) to more advanced Python as users become more adept at coding. 
Kids use a tablet or computer to code PYXEL to walk, make sounds, express emotions, and change color. Like Bittle, reviewed above, it can humorously raise a leg, although is not as sophisticated in its movements. Instructions are clear and there are tutorials and how-to videos.
The robot dog has Sound, Touch and Proximity sensors, speaker, wagging tail, LEDs, and programmable expressions.
Handily, it has its own built-in, password-protected Wi-Fi server, so doesn't need internet access.
Agent Asha Gift Pack – Screenless coding fun
Pros
Story-led learning
Screen-free
Price When Reviewed:

$41.99 including shipping
Ages: 7-11
Shhh… I didn't tell you, right, but the Children's Spy Agency (CSA) has a new coding product out, and its mission is to get kids into coding and computer science, as well as becoming critical thinkers.
The Children's Spy Agency Gift Pack (for ages 7-11) is a spy adventure book and activity pack starring Asha Joshi, who is an 11-year-old coder and secret agent for the Children's Spy Agency.
Agent Asha teaches kids how to go undercover (internet safety), design gadgets (computer programming), avoid data-hungry baddies (digital literacy), analyse intelligence (fake news) and more.
It's a story-led, screen-free way into the KS1 and KS2 Computing Curriculum. The book shows how to crack codes and teaches coding basics, and is full of diverse role models and a certain amount of toilet humor.
The big idea is to get all kids prepared for a digital future: fake news, mass surveillance, really annoying siblings, and so on.
Author Sophie Deen worked at Code Club, alongside Google and the UK Department for Education, to help introduce the new coding curriculum in primary schools.
The Agent Asha Gift Pack from Bright Little Labs (creator of Detective Dot) contains everything you need to start a local CSA Unit:
Agent Asha: Mission Shark Bytes adventure storybook (published by Walker Books)
Personalized invitation to the Children's Spy Agency (CSA)
Six STEM spy training activities
Secret Agent wall map
CSA Secret Agent membership card
CSA gadget cards
Official CSA stickers
Access to the immersive online world of the CSA (iOS/Android app)
There's also a new Ultimate Spy Coder Bundle (£34.99) that includes everything in the Agent Asha Gift Pack plus three CSA Training Manuals (Spy Identities, Spy Bases + Spy Communications – usually selling for £5.99 each).
All are printed and made sustainably by fairly paid workers. 
OJO STEM board games
Price When Reviewed:

$24.99
Ages: 3-8
OJO makes a range of STREAM games, covering topics from astronomy to robotics.
Not requiring batteries or complex construction, these colorful character-led problem-solving board games are suitable for kids aged 3-8, and should stimulate a child's curiosity, creativity and critical-thinking skills.
Atomic Force (6+) is a fun way to learn about chemistry, collecting protons, neutrons and electrons, and combing different atoms to form compounds. While battery-free you can download the OJO app for AR features and extra content.
Robot Workshop (5+) is about designing robots (using cardboard tiles rather than metal pieces, cogs and wheels) for space missions. The learning part is understanding what is required to carry out the tasks at hand.
Space Rescuers (5+) teaches kids about the solar system, with the fun part helping to save the universe by clearing up space waste.
Shape Factory (4+) gets to the basics of geometry by getting kids to build shapes that others have to guess correctly for them to score.
DJI RoboMaster S1 – A coding toy from well-known drone brand
Price When Reviewed:

$499
Ages: 14+
The RoboMaster S1 is the first robot of its kind from DJI, and while it might not fly like the majority of DJI products, it's an engaging robot that helps kids learn to code–as well as being amazingly fun to play with.
On the surface it might look like a standard RC car, complete with mechanum wheels and six 100w brushless motors, but there's much more to it than that. There's a creative focus, and that starts when you open the box and find the S1 in 107 pieces ready for you to build.
Once put together, the RoboMaster S1 will be able to see, sense and hear the world around it thanks to a suite of 31 on-board sensors and a stabilized 1080p HD FPV camera. What you do with those sensors is completely up to you, as the majority of the functionality has to be manually coded via Python or Scratch 3.0. It's a more tactile learning experience than software-based coding classes on the market, giving instant real-world feedback when programming the robot.
You can program the RoboMaster S1 to recognize and follow humans, read signs and recognize gestures by following the various in-app tutorials, allowing you to get creative with your robot, but it's not limited to pre-defined functionality.
You can program the S1 to guard your bedroom door, get you a can of coke or even sing a song–it's down to you and what you code. Confident coders and tinkerers can pick up the optional DIY kit that allows you to program additional functionality – like an extendable arm – to your robot.
Coding aside, the S1 provides access to a range of games–some multiplayer, with more coming soon–allowing you to go head-to-head with other S1 units. This can be used as a way to show off your newly coded skills to avoid incoming gunfire and get the upper hand on your opponent, or just a way to blow off steam when you've had enough of coding for the day.  
It's certainly not the cheapest option in our chart, but the RoboMaster S1 offers a great blend of entertainment and education–edutainment, if you will–and it's so much fun to control too.
Artie 3000 and Artie Max – Combine art with coding
Pros
Creative
Range of programming types
Price When Reviewed:

$69.99
Ages: 7+
STEM (Science Technology Engineering Mathematics) is great, but some children are naturally more artistically creative, so the new acronym in town is STEAM, which adds the Arts to the educational mix.
Artie 3000, from Educational Insights, is a fun coding robot toy that adds a level of artistic creativity to STEM learning—designed for ages 7 and up.
Kids design code—simply via drag and drop, remote control, and point and click—to make Artie draw the lines they desire.
The robot has even been approved by American Mensa.
It goes from beginners (Blockly and snap! Intuitive programming) to advanced (Python and JavaScript).
No internet connection is required because Artie 3000 comes with his (not sure why Artie has to be a he) own built-in Wi-Fi server, but you do need either a tablet, computer, or phone to control Artie. This means classrooms and homes can run multiple Artie robots simultaneously
There are pre-programmed designs, shapes and games, so beginners can get the hang of it and start coding straight away.
In the box, you get the Artie 3000 robot, four washable markers, a quick start guide, and three activity cards. You need to add the four AA batteries.
The new Artie Max toy adds extra color with three interchangeable onboard markers instead of Artie's one, and also teaches the popular C++ coding language alongside the other languages.
Code Lab – Hands-on Electronics Coding
Price When Reviewed:

$199.99
Ages: 8+
Many coding toys and kits avoid close contact with actual computers but Code Lab puts the circuit board at the heart of its STEAM coding education.
Aimed at kids aged 8 and over, Code Lab comes with a large circuit board for kids to program with 50 mini LED pixels. It features large LEDs, a speaker, arcade buttons, and light, sound and temperature sensors.
The board is connected to a computer (not a tablet or phone), on which you have downloaded the browser-like desktop app (Windows, Mac and Chromebook).
Kids follow 100 projects with video walkthroughs and example programs at their own pace, learning real C++ coding with no previous experience.
Discovering STEM Newton's Laws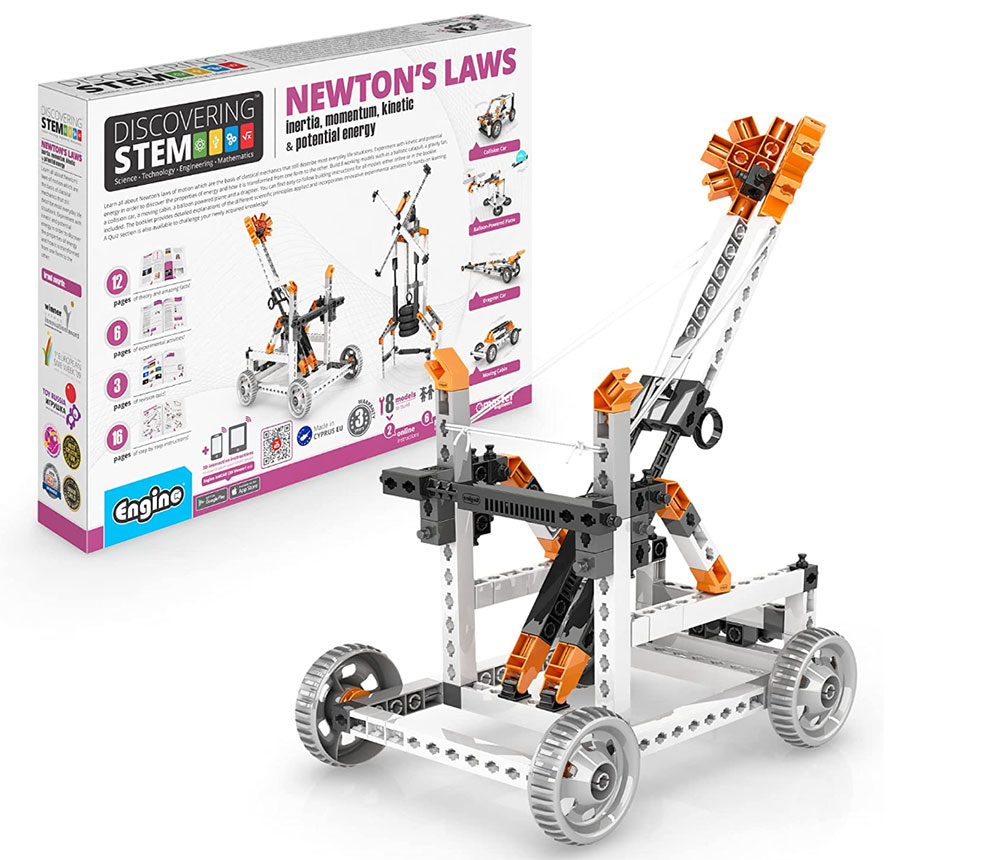 Pros
Hands-on construction
Teaches Newton's Laws
Cons
Non-science parents may fear the Instructions
Price When Reviewed:

$34.99
Ages: 9+
More for the budding engineer than the novice coder, Engino's Newton's Laws is a hand-on STEM construction kit that teaches Newton's Laws of Motion: Inertia, Momentum, Kinetic Energy, and Potential Energy.
There are eight working models to build, including Catapult, Balloon Powered Plane, Drag Racer, Collision Car and Gravity Fan. The manual includes 12 pages of theory and facts, a three-page quiz, six pages of experimental activities illustrating Newton's Laws, 16 pages of step by step, and 3D rendered illustrations
There is an Engino 3D app that's downloadable free for Android or iOS.
POWERUP 4.0 RC Paper Plane
Price When Reviewed:

$89.99
Ages: 6+
An interesting take on the usual STEM toy robots is this smartphone-controlled paper airplane that can be trained to do tricks such as loops, barrel rolls and hammerheads just like in Top Gun!
A bluetooth module that includes autopilot control connects to your phone so you can experience the sensation of flying paper, foam or Balsa Wood airplane models.
The onboard computer automatically calibrates your paper airplane with a built-in launch assist and wind stabilizer.
Charge for 30 minutes and you should get ten minutes of flight time along with a range of up to 230ft, traveling at up to 20mph.
The STEM part comes in with various wing configurations that help you learn about the aerodynamic forces—lift, drag, thrust and gravity—that make flight possible.
The makers claim that the heavy-duty carbon fiber body with nylon-reinforced nose and motor mount are "near indestructible". If your paper plane flies out of range, the onboard computer will even safely land itself.
It comes with four paper templates for the Invader model, and you can customize with accessories and other airplane kit models.
Mochi – Great For 3-6-year-olds
Price When Reviewed:

$189
Ages: 3-6
This Lego-compatible, screenless coding game is aimed at kids aged 3-6. It helps children learn coding basics in a hands-on way without increasing their screentime.
Players get puzzles to complete and problems to solve. Actually they are creating algorithms and sequences, telling Mochi where to go and what to do. When done correctly, they get instant feedback.
Kids can choose their own adventure from the story library–exploring the planets, colors, ABCs, the inside of a plant cell, Earth's biomes, and others.
The robot comes with pre-made accessories, or you can add your own Lego or craft to get Mochi ready for the adventure.
Despite not being screen-based, Mochi provides interactive sound, motion, songs, and visual feedback.
Botzees – A Kit With Augmented Reality Puzzles
Ages: 4-9
Botzees is a hand-on coding robotics kit with Augmented Reality puzzles, for kids ages 4-9. The kit combines creativity, construction, and coding.
Kids can program six pre-designed Botzees or create their own from 130 easy-to-grip colorful blocks.
Equipped with two motors, one sensor and Bluetooth connectivity, the robots can be taught to move, drum, dance, make sounds, and light up using the free app (iOS and Android).
Kids learn how to code using easy-to-follow, drag-and-drop code blocks.
30 interactive Augmented Reality puzzles visually teach foundational coding concepts such as sequencing, looping, and conditional coding.
Elegoo Smart Robot Car Kit – Best For 13+
Price When Reviewed:

$84.99
Ages: 13+
This robot kit (aimed at ages 13+) uses an Arduino board, and will help teach programming, hands-on electronics assembling and robotics. Arduino is a popular open-source technology that's great for input/output operations, and small computations.
It's composed of a microcontroller, sensors, motors, LEDs, a reset button, and many pins that you can use for input/output.
It contains 24 kinds of module parts, including auto go, obstacle avoidance (via an ultrasonic sensor) and a line-tracing module (via infrared photoelectric sensor).
It comes with an infrared remote control, but can also be controlled via phone/tablet (Android or iOS).
Everything is well packaged, and with minimal plastic waste.
The instructions are well laid out, and with patience you will find it easy to assemble. Don't rush, though. Building it will teach you a lot about electronics.
This updated version of the Smart Robot Car uses a redesigned expansion board and cables, using XH2.54 interfaces—which should make construction much easier. There are still pins on the board for customisation by more experienced users.
Lego Build, Code and Play Toy – Lego-based Coding For Older Kids
Pros
Lego
Fun, active learning
Price When Reviewed:

$159.95
Ages: 7-12
Kids love Lego, right? So, you can still buy a present that's made by Lego, and help teach children how to code and have fun at the same time.
This Build, Code and Play Toy includes 847 Lego pieces that kids can build and rebuild into five cool multifunctional models—motorized robots, models and creations with distance, color and tilt sensor technologies.
Kids can construct and code Vernie the Robot to dance, tell jokes and even break wind. They can also rock out on the Guitar4000, foster Frankie the Cat that can purr to express its mood, interact with the Autobuilder that itself build Lego models, or explore a new discovery with the M.T.R.4 (a robust and versatile Multi-Tooled Rover 4).
It includes a Lego Move Hub with Bluetooth connectivity, interactive motor and color and distance sensor, plus a playmat for use with specific activities, and a LEGO Boost wall poster.
imagiCharm – Best for teen girls (and boys)
Ages: 8-13
imagiLabs is an all-female Swedish startup (springing from Google for Startups and Apple's Entrepreneur Camp) aiming to bridge the gender divide in coding with imagiCharm, a small but smart device that can be visually customized by coding in a mobile app (iOS and Android).
It's aimed at teenage girls, but is equally relevant for open-minded, creative boys interested in learning the basics principles of coding.
The imagiCharm's simple 8-x-8 matrix of 64 LEDs can be coded to display thousands of different designs, such as emojis, digital pets, faces, and flowers.
Coding is based on the powerful Python language, which is a professional level tool but popular as it is not complex to learn. It's a staple of the Computer Science educational curriculum.
Users will learn real-world applications and therefore the possibilities of programming. 
The company sees users attaching the imagiCharm to backpacks, keychains and jackets. Kids can also show off their designs and coding techniques within an in-app community.
Beyond personalising imagiCharm, the imagiLabs app helps girls learn Python coding principles through interactive tutorials.
Note that the Android app has fewer features than the iOS app, but can still be used to create and share coding projects.
Anki Cozmo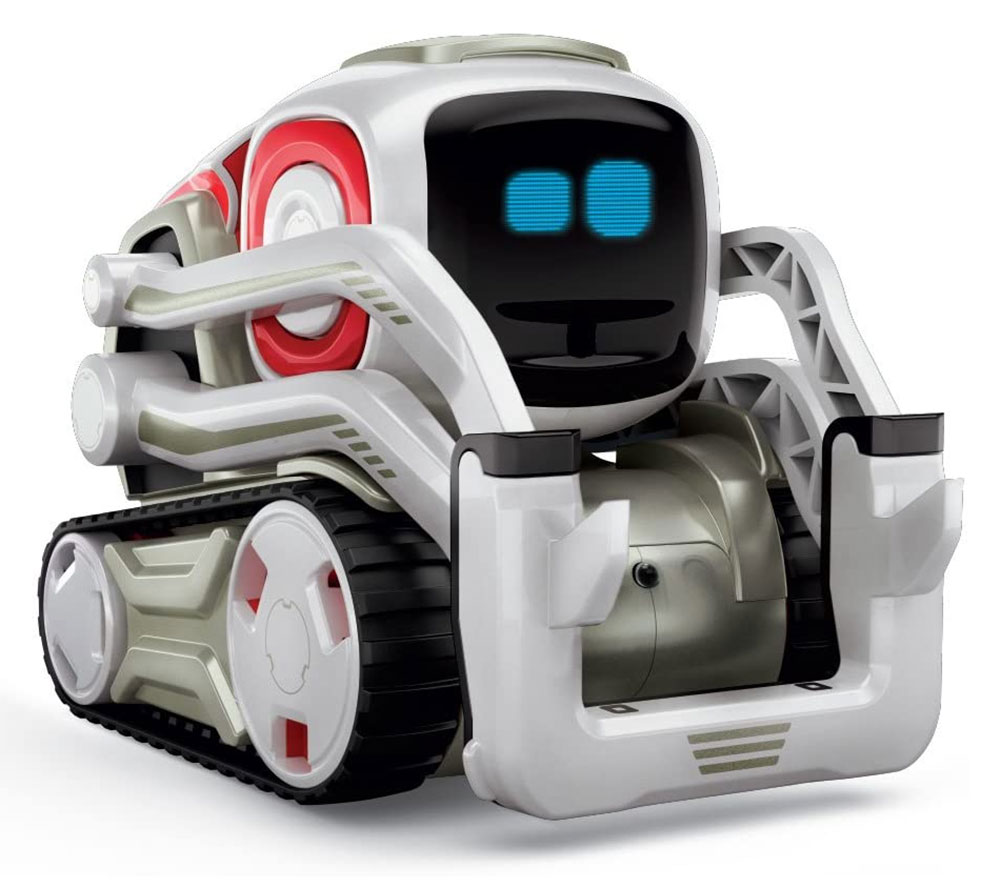 Price When Reviewed:

$299.99
Unlike some of the others toys and games on this list, the Anki Cozmo isn't primarily designed with coding in mind. First and foremost, it's a charming, fun, interactive robot, but that appeal could make it a great tool for engaging kids in its coding mini-games.
Cozmo is a personality-packed robot that fits in the palm of your hand and can interact with people, the environment, and a set of three touch-sensitive LED blocks included in the set. He can move and stack the blocks, play a series of games with them, and show off a wide range of animations—and even use his built-in camera to recognize people's faces.
Most interesting for our purpose is the Code Lab feature, which lets you string together a series of movements, actions, and animations to code Cozmo's behavior.
It uses a simple, colorful block coding system to teach kids the basic logic of coding, with blocks for actions, movements, and animations; blocks for functions like looping; and other blocks for triggers like seeing a face he recognizes, or finding a block near him.
It's simple stuff, but there's obviously room to expand it almost endlessly and build up to very complex behaviors—all acted out in front of you by the endlessly charming Cozmo.
If you want to find out more, you can see him in action in Tech Advisor's hands-on video.
Dash – The Cutest Coding Toy
Price When Reviewed:

$149.99
Ages: 6-11
Wonder Workshop's Dash is aimed at children aged 6-11. It's a six-inch-tall stack of spheres that scoots around on three wheels, one under each part of its body–with a head on top that can move independently. It is covered with lights that you can control, and it can see, hear and speak.
Control is performed through a series of five apps for iOS or Android. All of the apps include tutorials to help your children (and you) learn how to build increasingly complex programs, before setting you free to code away.
A physical toy helps children build a better idea of what coding is for, and who doesn't like cute robots?
A real robot also offers some neat science lessons along the way. For example, Dash doesn't actually turn his wheels, he just spins one faster than the other. Your child can set the speeds for each wheel individually, getting them to understand the physics behind this through play and experimentation.
For older or more accomplished coders Wonder has another robot called Cue, which can use more complex code.
Read our full
Wonder Workshop Dash Robot review
Bitsbox – A Coding Subscription Box
Ages: 6-12
Bitsbox uses simple coding commands to create cool apps. Kids learn to program by copying and modifying apps and then downloading them to their smartphone or tablet. Every month Bitsbox sends out to subscribers a fun package of programming materials in a box.
In each box there's a full-color booklet with between 12 and 20 apps to code, alongside high-quality extras such as trading cards, posters, stickers, non-toxic tattoos and other goodies–even a mystery toy. Kids type in these lines of code on Bitsbox's virtual tablet on its website. As they type the code they see the app coming to life before their eyes, and once they finish they can download the app on their smartphones/tablets and share it with friends and family. 
Apps range from simple two-liners to full-on games with graphics and sound effects. The language that kids are typing is simple Javascript/HTML5.  
The idea behind Bitsbox is that kids should actually learn how to write code. This compares to using a visual modular language such as Scratch, which teaches "coding logic" but not how to write in the coding language. 
As such it's a partner to Scratch, or maybe next step for kids who want to get deeper into coding.
Coding logic has often been prioritized over actual coding because many educators feel that it's too hard for young kids (aged 6-12) to learn such languages. Bitsbox disagrees. Just as young kids are better equipped to learn foreign languages or how to read music than the older students, there is no reason why the language of computers should be any different, says the company.
While it's possible to download the digital book for a lower price, kids will get more excited and (literally) stick with the program if they receive the full $30 box each month.
Robot Mouse Activity Set – A Simple Introduction To Coding
Price When Reviewed:

$59.99
Ages: 4-10
Aimed squarely at primary school children in science, technology, engineering and maths lessons the Robot Mouse Kit is a cute way to develop coding enthusiasm and critical thinking skills from a young age.
Kids program the battery-driven mouse to find the cheese, and this can be solo or a group game. Through gameplay it provides a basic introduction to the concepts of coding, including Step Coding and Logic.
The flexible kit comes with 16 plastic base pieces, 22 plastic maze walls, 3 tunnel pieces, 30 double-sided coding cards, 20 Sequence cards to plot and track the mouse's path to the cheese, and a Multilingual activity guide.
There are two coding sets available; the activity set that is complete with the green track or the individual mouse, which comes with coding cards so you can use it on the floor.
Code & Go Mouse Mania Board Game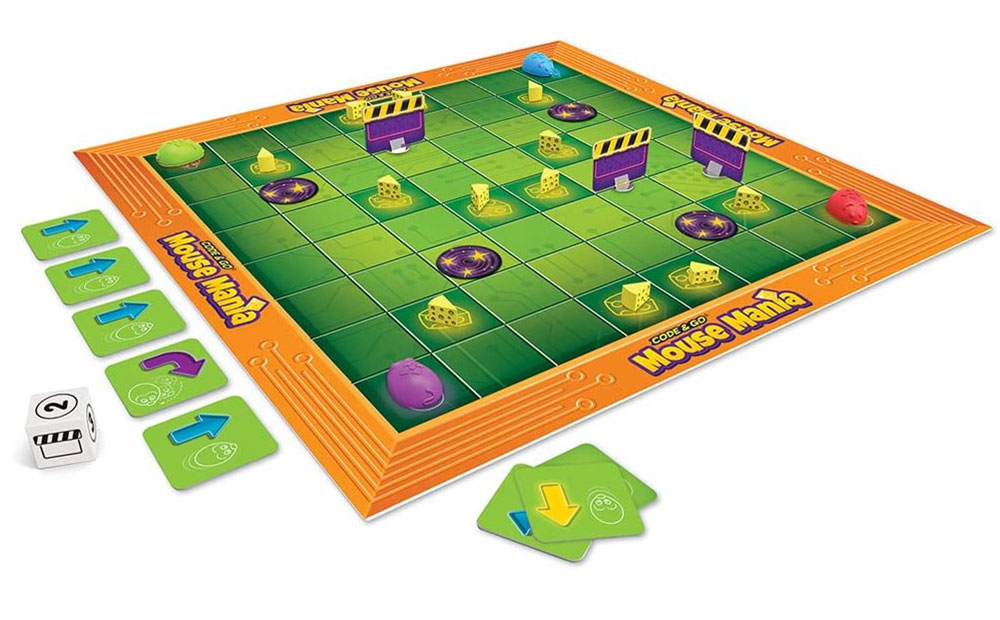 Price When Reviewed:

$21.99
Ages: 5+
This board game, for two to four players, is inspired by Learning Resources' Code & Go Robot Mouse (see above) and aims through tactile touch to teach kids coding basics without the need for a screen, app or batteries.
Players draw coding cards and "compute" their mice towards cheese wedges scattered across the board and through barriers and via warp tunnels
ThinkFun Robot Turtles – A Coding Board Game
Price When Reviewed:

$24.99
Ages: 4+
Another batteries-not-required coding board game is Robot Turtles, which teaches programming fundamentals to kids ages 4 and up.
Inspired by the Logo programming language, the game lets kids write programs with playing cards. Players dictate the movements of their Robot Turtle tokens on a game board by playing basic Code Cards: Forward, Left and Right. When a player's Robot Turtle reaches a jewel they win. If they make a mistake, they can use a Bug Card to undo a move.
The game has Beginner to Advanced levels–as the players advance they encounter obstacles such as Ice Walls, and use more complex Code Cards (like lasers to melt the walls).
Two to five players can play at once and everyone who gets the Robot Jewel wins.
link