Coding, video game design, and more explored by students at Fred M. Lynn Middle School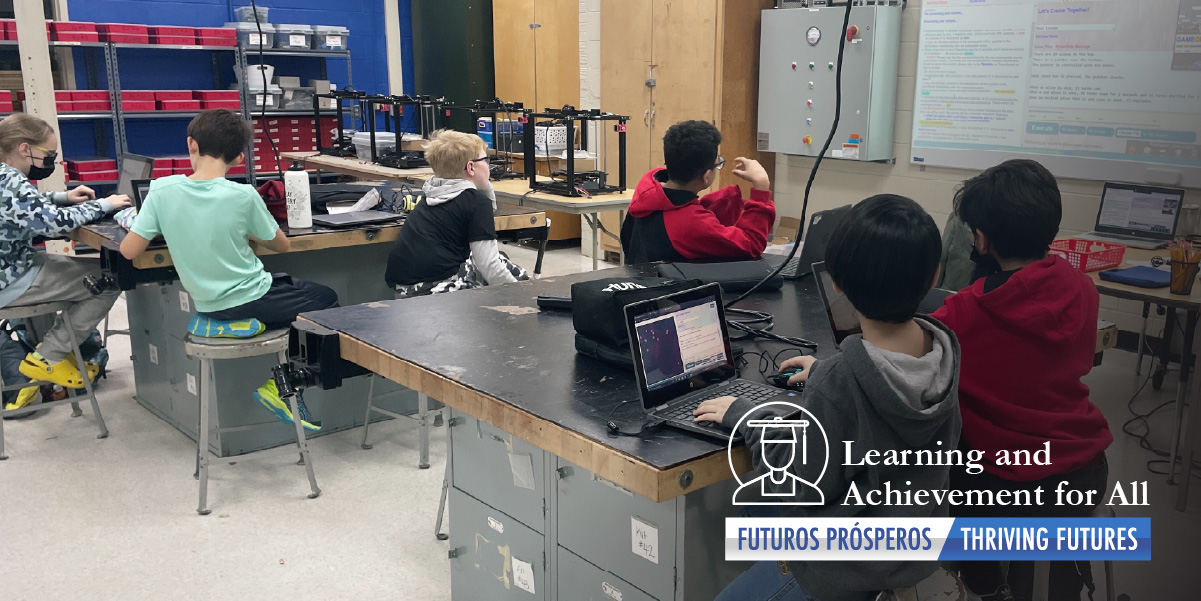 At Fred M. Lynn Middle School, students watch the SmartBoard enthralled as a red and gray rocket shoots fireballs at alien saucers with the first hit changing the saucer to blue and the second shot resulting in an explosion. This is the introduction of a one-hour coding lesson by Dr. Michael Hsiao, a professor from Virginia Tech's Bradley Department of Electrical and Computer Engineering, in partnership with Pink Space Theory, a mobile science, technology, engineering, art, and mathematics (STEAM) based makerspace located in Washington, DC. Pink Space Theory contacted Audrey Berryman, assistant principal, to work with Virginia Tech and a new program to design games.
Game "Changineer" is a fun and creative program created by Hsiao that teaches students computational thinking, game design, and the logic behind popular video games.
"I made up the word 'Changineer.' It combines 'changer' with 'engineer.' As students create their own game, they practice the engineering processes of design, test, evaluate, cycle. It also significantly reduces the time to create a game, since they are simply designing with English," shared Hsiao.
After Hsiao provides the afternoon lesson, students build their own games using codes they write on their individual school laptops. The sessions were open to all students in grades 6-8.
The excitement for this activity was palpable in the air as students conversed amongst themselves talking through the logic of the games they were creating and helping each other problem-solve.
Seventh grade student Nearschyler Yee shared, "The best thing about these coding lessons is I learned how to create games which in turn helps me if I want a job creating video games in the future."
His classmate Marco Castro Chambi added, "In my future career, I think that I may want to do something with programming. This really made an impact on me because I wanted to learn how to code, and this benefits me for later in life."
Erin Lowery, technology and engineering educator at Fred Lynn, stated, "I have never been so amazed as I have been over these last 10 sessions watching the problem-solving and creativity of the students. Their level of engagement is like nothing I have seen before, along with their enthusiasm to learn from Dr. Hsiao. I love watching their minds work and create."
When asked what the impact of coding lessons would be for the students, Hsiao shared, "We know that 21st century thinking involves computational thinking because we live in a world with an endless number of digital devices. Thus, knowing how they work will be critical to 21st century jobs. Programming is not an easy task, but this platform [Game 'Changineer'] lets you write the logic in plain English sentences so essentially you create the design by describing the logic of your game, and in doing so, this platform allows students to practice thinking like a computer scientist. If they already know how to think like a computer scientist, then when they learn programming language, they will have a much easier time understanding because they are already thinking the right way."
In addition to the coding portion, the lesson also focused on strengthening students' English language arts skills. "The focus on grammar and literacy was embedded in each lesson. All coding would only work if codes were written grammatically and syntactically correct. This includes all mechanics of writing. If there is a mistake, the program identifies the code sentence, and the student must make the appropriate corrections for the game to work," shared Berryman. "This learning opportunity directly aligns with the Strategic Plan for English/language arts as promoting metacognitive thinking and enhancing critical thinking while simultaneously encouraging collaboration and creativity."

link