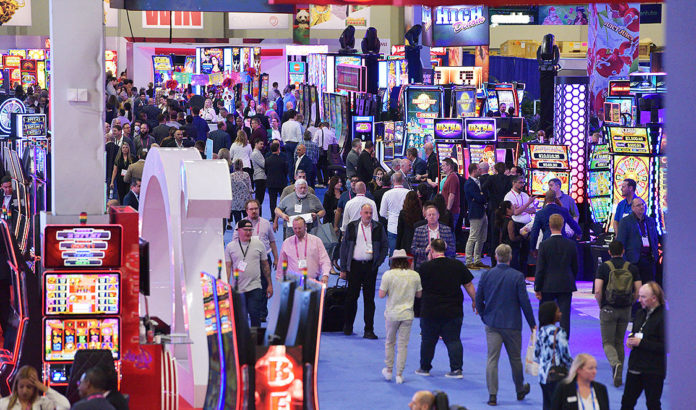 At the recent Global Gaming Expo (G2E) in Las Vegas, executives from the leading game technology companies discussed their latest games and product innovations for the Indian gaming industry. Here is what they had to say…
Julia Boguslawski, Chief Marketing Officer
AGS
playags.com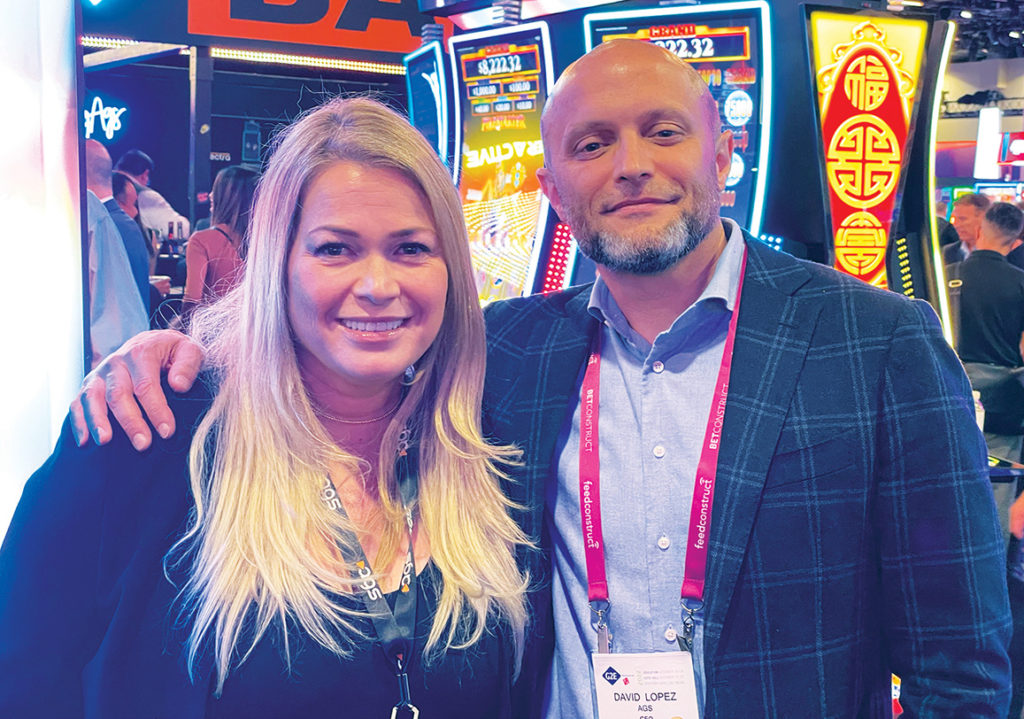 AGS has always prided itself on being a strong tribal partner and with an emphasis on Class II. Obviously, we have products for both Class II and Class III, but we've done a really good job over the last few years of showing how we can create great games for both markets – a great experience in Class II and a great experience in Class III. Today, we have so many different form factors, types of cabinets and games, and are appealing to different types of players. We also have high denomination games and are in that segment now.
Our new core offering, the Spectra UR43 cabinet, has these beautiful configuration sign packages that are bright, vibrant and engaging. This also aligns with the investment AGS has put into R&D. Even through COVID, we were steadfast and grew from three game studios to double that today.
We've invested in development, engineers, talent and art, and then to top it off, David Lopez is a truly unique CEO. He has a corporate culture we are so proud of. AGS has won awards that you can't pay for – that employees vote for. When you have that sort of talent and a CEO that people are very loyal to, combined with the opportunities in this space, it's just a great recipe for success.
The other thing that's so unique for AGS is that we get to play offense, not defense. Some others in the space are in a more defensive mode with a huge footprint to defend, but there's so much white space for AGS. We are still underrepresented in so many markets, so we get to go out there and really play offense.
At G2E this year, visitors saw the fruits of our investment in R&D. What I love is that at our core, we still pride ourselves on being that great Class II partner, which is in our roots.
Hector Fernandez, CEO
Aristocrat Gaming
aristocrat-us.com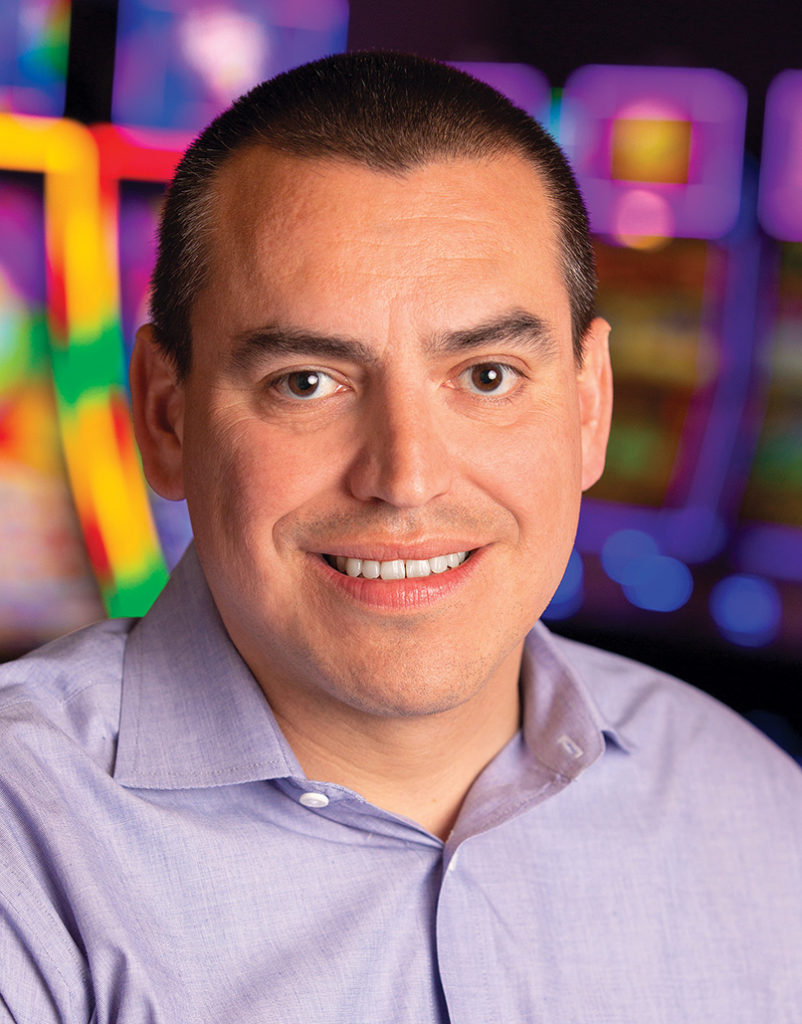 One of the things visitors saw at G2E was that 100% of our for sale product is brand new, as well as 70% of our premium product. We also have new bespoke Class II content. During COVID, we made the decision to continue to invest, and that's really what's driven these new games. The other element we are excited about is NFL slots, which will launch the fall of next year. We are very excited to bring the NFL brand to casinos, both in Class II and in Class III.
We recognize the importance of the tribes and Class II gaming. One of our strategic pillars is Class II, because we believe that developing bespoke content for that market is critical to success.
Building on successful brands, we have Lightning Buffalo Link, which is a combination of Lightning Link and Buffalo Link, which was really successful for us as we launched it 18 months ago. Jackpot Carnival is another game we are really excited about. It's a vintage brand, if you will, and we are bringing it back re-imagined. Silver Dollar Shootout is also a classic brand, re-imagined into a video format.
Casey Whalen, Chief Commercial Officer
Bluberi
bluberi.com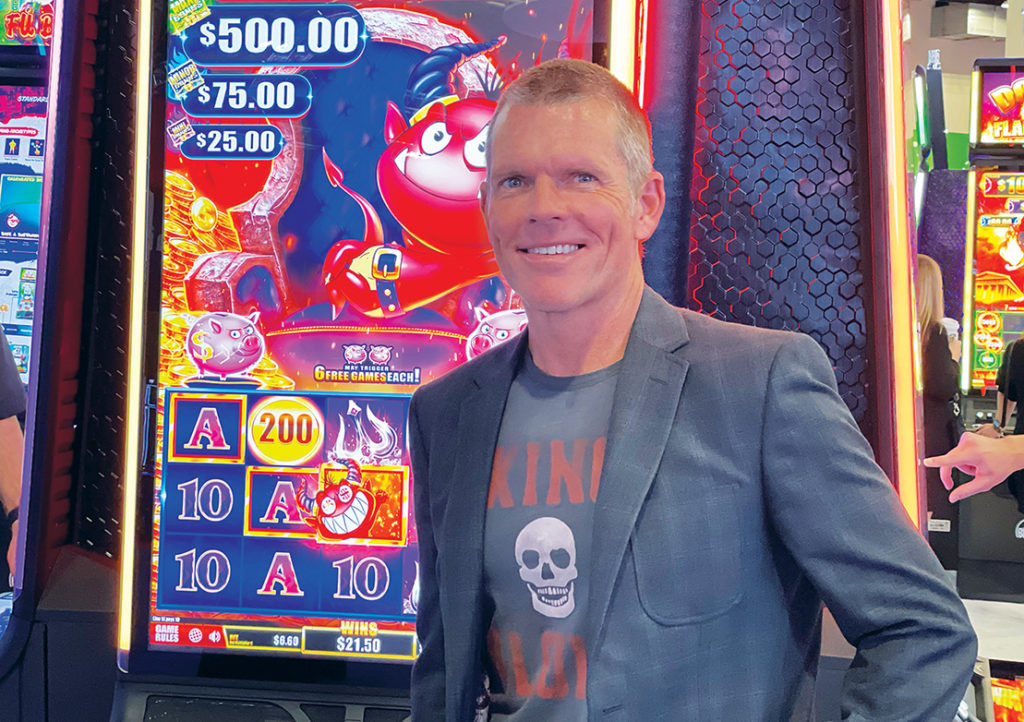 A lot of industry veterans came to Bluberi when Andrew Burke came on board as CEO, and there are also some great legacy Canadian folks that have been at the company for a while. We've made games that are uniquely Bluberi, meaning we've taken concepts or play mechanics and flavored them our way. And then we are getting behind one cabinet, so we are not distracted. We are super focused on unique math models – we don't build any clones here. The uniqueness of our approach is something I'm very excited about.
Devil's Lock would be the game I'm most proud of and excited about. It is a game that was number one on Eilers in the August 2020 report. Our little company is something we are super proud of. We don't feel like we've arrived just yet. We are going to continue to press on, but we are definitely celebrating that victory.
Tribal gaming, to us, means everything. We are not in Nevada or New Jersey. The strength is in our partners in tribal gaming, who have been so patient with us as we re-engineered the way we go about building games, and even restructured our hardware. We did a total overhaul, and the thing that's been most responsible for our resurgence is tribes being willing to take a chance on us, and being patient while we came up with our popular Devil's Lock game. We couldn't be more thankful to these tribal partners all across the country.
Sean Evans, SVP of Sales
Eclipse Gaming
eclipsegamingsystems.com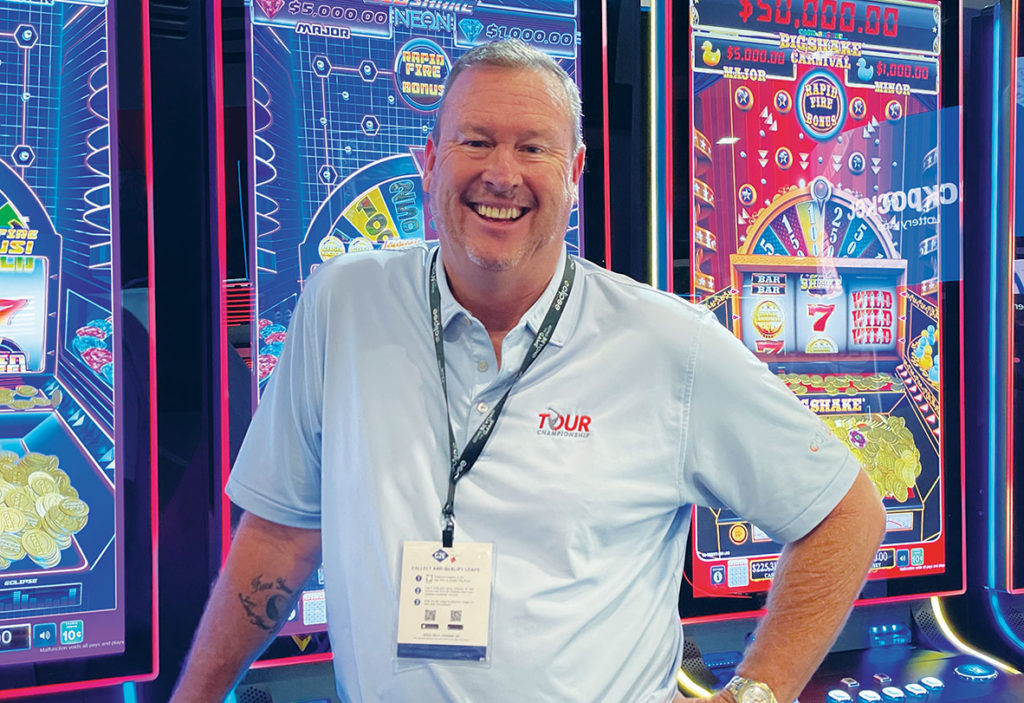 What's been really good for us this year is we've come out with a new concept, a virtual coin pusher, which hasn't been done in the video space previously. It's basically a video display outcome of what a standard mechanical coin pusher does. We are pushing the boundaries to give players something different rather than just the standard spinning reel slots. Technically, we don't even need the reels on this particular game as the reels are just showing the win from the coins that fall down.
My favorite game right now is Tick Tock Jackpot. We've just come out with our first clone of this game called Sky High Jackpots, and we will have the third in the series, Mucho Grande Jackpot, by the end of the year.
We focus exclusively as a Class II provider on tribal gaming and want to be the company that has good service, great relationships, and works hard together. We started an initiative called Going Beyond the Game where we've partnered up with two tribes this year – Northern Quest in Washington and Prairie Band Potawatomi Nation in Kansas to donate backpacks and school supplies for kids. It is a neat initiative, and one that we are all proud of.
Loren Rosenberg, SVP & Chief Product Officer – Games
Everi
everi.com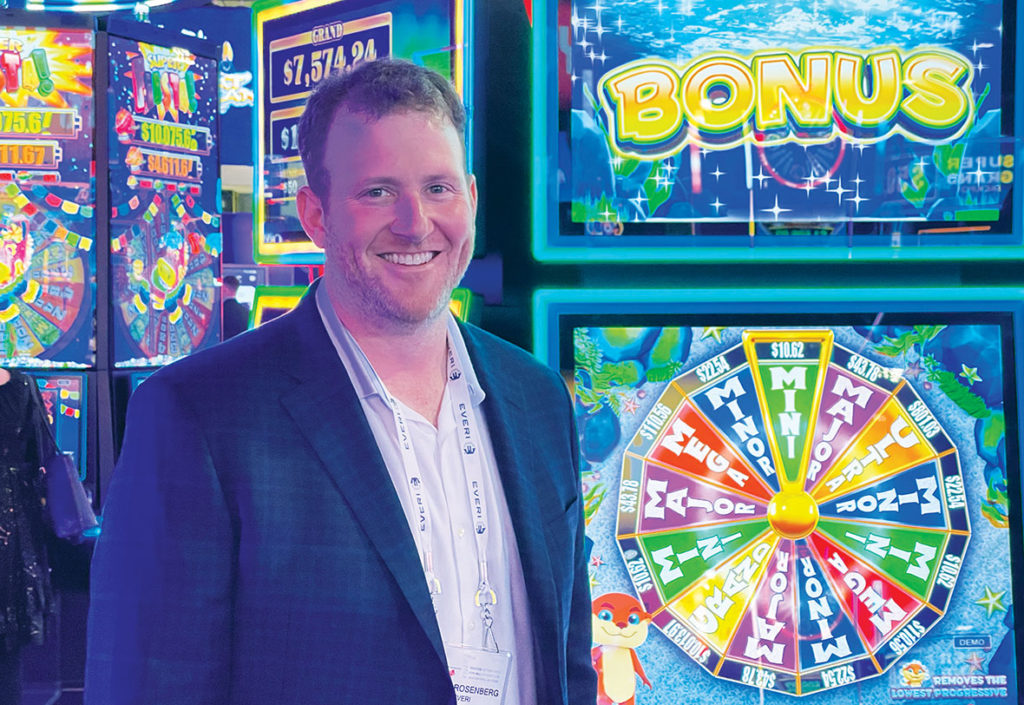 We are proud of our entire portfolio. The one thing that we have done over the past couple of years is really double down on R&D. Since the beginning of '21, we've added 150 team members in our gaming division on the R&D side, so we have an abundance of content coming out. In '23, we'll have 88 themes, which is around 34% more than we released in 2022. And the thing that I'm most excited about is our Dynasty Vue cabinet, which is launching in Q1 with seven themes, across four distinct families that leverages all of the successful mechanics of Everi's strong history in both the low denom side, as well as high denom, and some new innovative games.
The tribal market is where our roots began with Multimedia Games in 1998 as one of the early pioneers in the Class II space. Class II has always been near and dear to our heart as we occupy about 20% of the Class II market, and we offer, we think, the widest and deepest portfolio.
Mike Dreitzer, CEO
Gaming Arts
gamingarts.com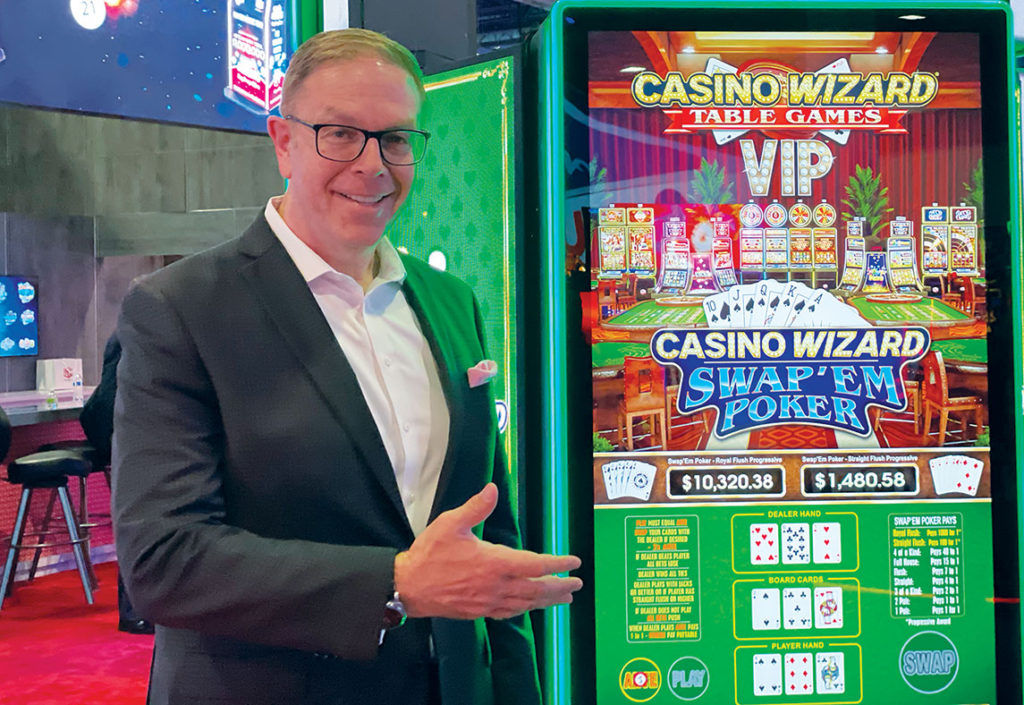 I'm very excited the industry is back in full force. G2E was a very well attended convention with lots of enthusiasm and interest in the industry and our products specifically. We are very enthusiastic about that. We feel as though we put our best foot forward to the market and were able to show some of the newer games that we'll be putting out, specifically Casino Wizard VIP, which we are very excited about. We also have the charming Kung Fu Empress, who is making her way across slot floors in the U.S. And then, of course, we worked with the incomparable Brian Christopher on the first influencer game of its kind.
We are grateful that our customers and friends across tribal gaming and commercial gaming continue to give us opportunities. And we are here to make good on those opportunities and continue to provide content that is very compelling for their players. I'm very happy with our portfolio, because it's broad enough to be able to offer games that work across different jurisdictions in North America. Gaming Arts is going to go international, beyond the U.S. and Canada, so we are excited about that. We are very excited about our library and the ability for the library to deliver to a diverse player group, across casinos in the U.S. and worldwide.
At G2E, it was great to see all of our friends and colleagues. All in all, it was a terrific show, and we will use this as tremendous momentum headed into 2023.
Phil O'Shaughnessy, Vice President Global Communications, Events and Sustainability
Knute Knudson, Vice President of Global Business Development
IGT
igt.com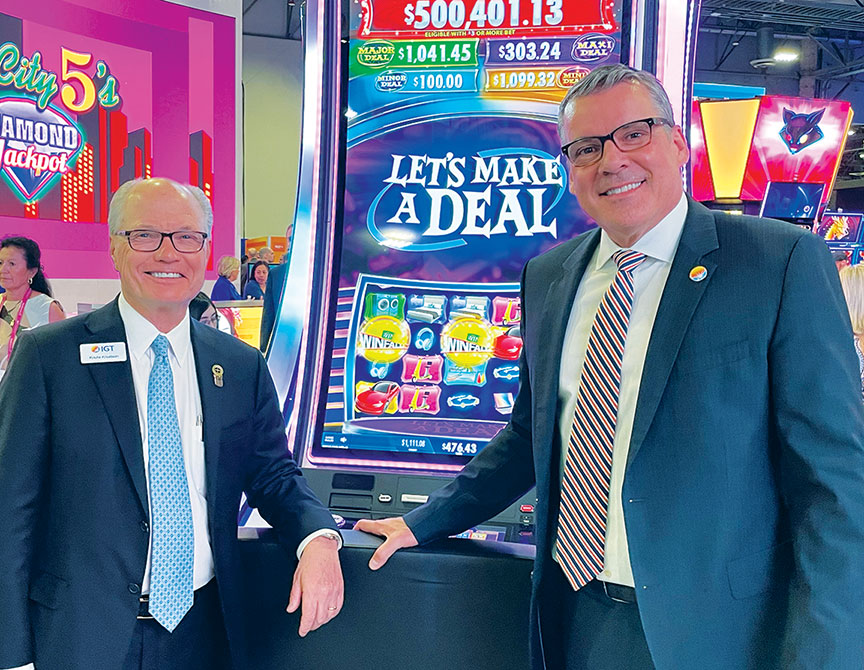 Phil O'Shaughnessy: There is great popularity around our video poker. The PeakBarTop has been a real hit with Game King, Ultimate X, and of course, Keno and slot play. At G2E, we won the Global Gaming Award for the best land-based product for PeakBar Top with sports betting embedded right there in the bar top. Players can relax at the bar, play a little video poker, watch sports, and with the IGT PeakBarTop with sports betting, wager on a game right there while watching it.
We continue to expand the Peak family of cabinets, including the large format cabinets, like our Peak 65, that we launched with the Let's Make a Deal game at G2E. And of course, the legacy that we have with Wheel of Fortune and games like The Price is Right and Jeopardy. We take iconic elements from those games and put them right into the slot machine, and it really resonates with players. I should also mention our multi-level progressives, which we structure in both a for sale and lease scenario for operators – whatever suits their needs best. For games like Prosperity Link, which was a huge hit at IGA earlier in the year, we saw customers at G2E coming specifically to the stand to talk about Prosperity Link and some of the other multi-level progressives that we have on our offering. It's clearly going to be a hit and very prevalent in tribal casinos.
During the pandemic we saw that people wanted to find secure and touchless solutions, and the momentum for cashless has not stopped. We just had a fantastic announcement with Station Casinos where we were able to announce six properties in the Las Vegas market, but also Indigo Sky in Oklahoma now has IGTPay and Resort Wallet. A player can simply go into a casino, much like we've been doing at coffee shops for years, tap their device on the machine, access their loyalty program and funds, while having a very secure, and in many ways more sanitary, experience than dealing with cash. Cashless continues to have great momentum and with our capacity at IGT, we anticipate being able to take that around the world and see that same kind of customer adoption
ultimately.
Knute Knudson: The really interesting thing in terms of the pandemic was that the regional casinos, which are mostly tribal casinos, did much better than the destination locations. They did better than commercial entities, very much like after 9/11. What we are seeing now in Las Vegas is all of the casinos are full. Hotel vacancies are very low. The businesses are all back. They're really back. If you look at the specific numbers for tribal gaming, the NIGC reported $39 billion for 2021. A tremendous increase in what's going on there. The future is very bright. The best is yet to come for Indian gaming. We've always been part of it. We want to continue to be part of it. Tribal gaming is an enormous part of IGT's overall revenue picture. We understand that. We will always be supportive of tribes. Our job is to build good products to assist tribal governments in moving forward with successful businesses so they can support all of the government services that they provide.
Jake Kalpakian, President & CEO
Jackpot Digital
jackpotdigital.com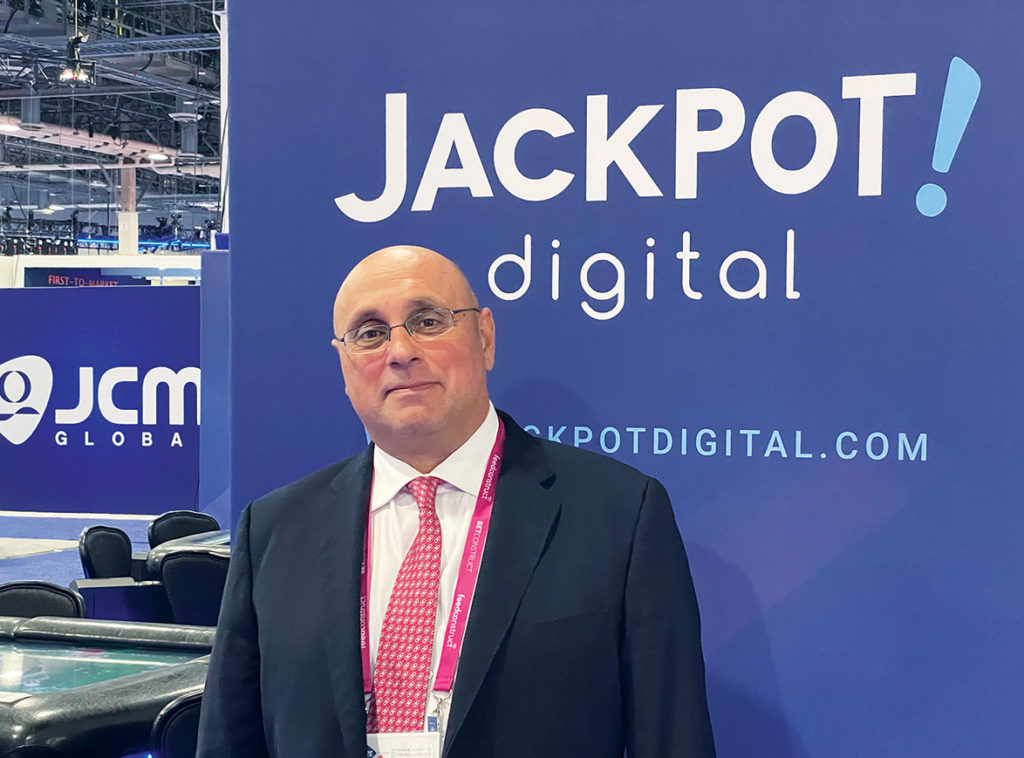 There's a lot of buzz about our new product, which has TITO and SAS compatibility. We are getting an enormous amount of interest. The product has evolved a great deal, and it basically checks off all of the boxes for many different companies, and far exceeds their expectations for what the product can do. The best is yet to come because we can continually add more enhancements and features. A lot of casinos are excited that it's a product that will never be stale – we keep adding more interesting parts and features.
In the coming year, I see a real surge in sales based on order interest and what's in the pipeline. We are revolutionizing the way poker can be played in bricks and mortar, especially from the economic structure where it becomes very profitable as opposed to a loss leader. All around, the product has come a long way. It's really a smart table disguised as a poker table. It's no different than your iPhone, and we can just keep adding more features and enhancements.
Tashina Lazcano, Director of Marketing & Communications
Konami Gaming
konamigaming.com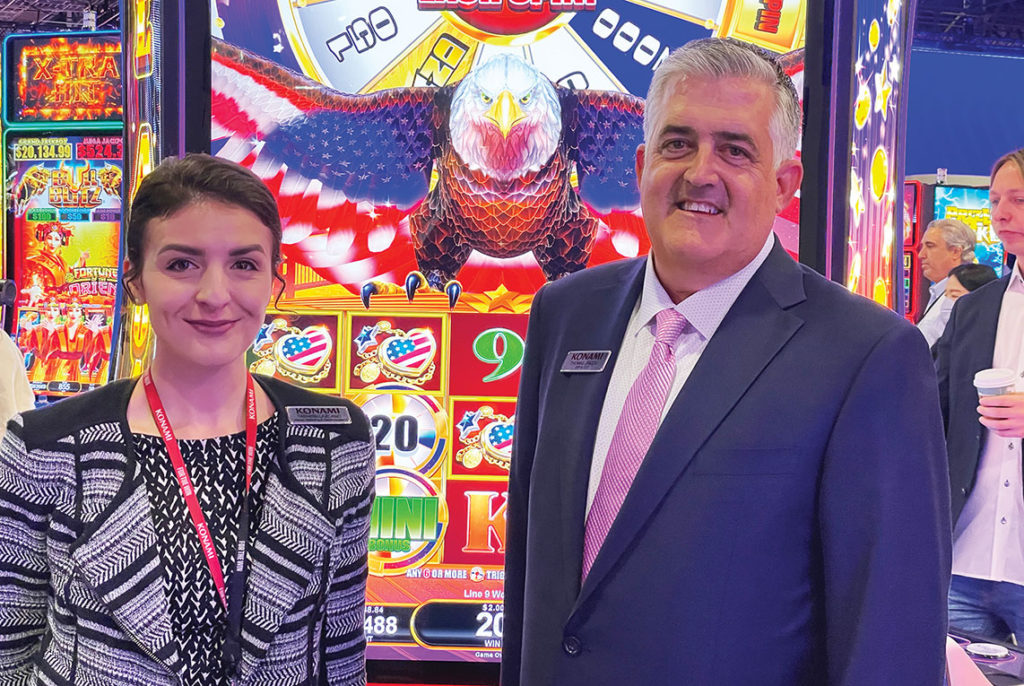 At G2E, we were so happy to offer an expanded Dimension line with the release of Dimension 75C, our big screen curved cabinet. We also showed the Dimension top box, which has a lower 27-inch screen and an upper 49-inch screen. We featured both of those hardware pieces as well as an expansion on the content library.
A few years ago, we came out with All Aboard, and it's been a huge hit and ranked an industry top-performing parent game for 22 months. It's also been voted the player's choice for best video slot and best progressive slot. We are continuing to develop that with more great progressive games. At G2E, we showed BattleBots, Bull Blitz and America's Rich Life, and we are continuing to iterate on what works with players and what they are enjoying about the Dimension and the All Aboard series.
In our proven core, we have our Dimension 49 flat screen cabinet, a direct for sale cabinet and we continue to expand the library. That cabinet has ranked the industry's number one top performing portrait/portrait slant cabinet for 10 months, and we are continuing to release more great games and original series on that to help get even more value out of this great award-winning Dimension line for our players.
Of course, we still have our Synkros casino management system, which continues to see a high amount of demand in the market, not only for the core management system but also for the great new advances that we've added like our Synk31 anti-money laundering Title 31 product. We are looking to even bring it to operators who may have another management system – they can use that same AML system there.
Our proven cashless technology has been in the market for eight years and continues to see demand with Synkros Money Klip. We also have mobile solutions with our Konetic employee mobile app, which casino operators can give to their casino teams to be able to respond to different requests on the floor such as jackpot processing, cash cans, and progressive sign monitoring.
We are proud to offer a multitude of options for operators as they continue to ramp up in this return to business. We have a lot of different solutions to give them the most value out of what they have with Dimension, or if they're new to Dimension, there is so much value they can unlock.
Matt Wilson, President & CEO
Light & Wonder
lnw.com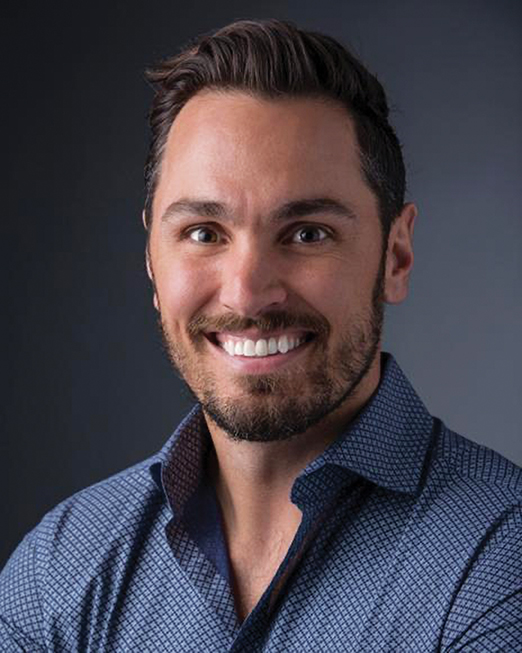 A very exciting cabinet launch for Light and Wonder is called Cosmic – a new premium curve cabinet with amazing packaging. We have a new game design studio called Studio X. Ted Hase, who is a future hall of fame game designer in the industry in my mind, has made games like Buffalo Brand, Tarzan and Walking Dead. The first games he's launching at our company are Frankenstein, a monsters themed game, and a game called Dragon. They have amazing game mechanics and we are really excited. Ted is an incredible game designer, and we are excited to see what he brings to our organization. He is very complimentary to all of the talent we already have, and we are layering on new talent, more games, more everything.
Over the last year, we've become a much more streamlined company. Scientific Games used to be a lottery company and a sports betting company and everything in between. We sold lottery and sports in the last year so we could become a lot more targeted and focused. It also took care of a debt issue we had for many years. Now we are a focused company with three divisions – the land-based gaming business, which is so important to us as it's our heritage and our history; our social casino business; and our iGaming business, which is expanding pretty rapidly in the U.S. All are underpinned by content and technology. We are really excited about doubling down our focus and energy and effort on being the world's leading provider of content and technology in these gaming markets.
Rick Meitzler, President
Novomatic Americas
novomaticamericas.com/en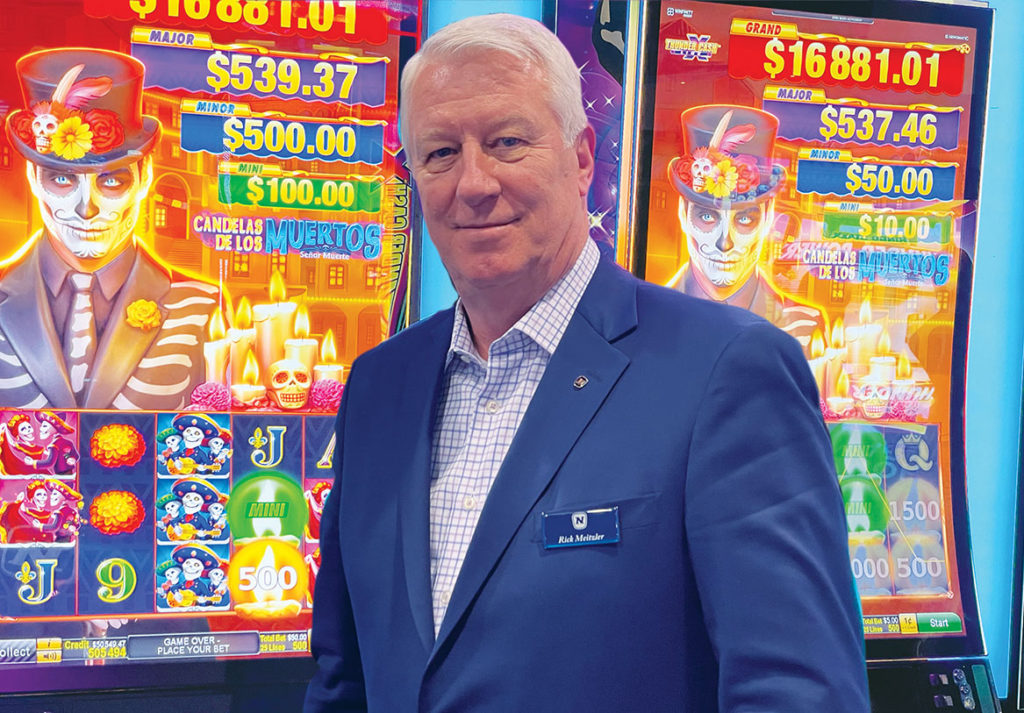 At G2E, we had a big launch with our new cabinet, the Diamond X series with Thunder Cash X Link. We have eight or nine new titles coming out, and we are hoping to put these on floors in tribal areas all over the U.S. shortly. The Diamond X will be available by the end of the year for delivery.
I'm a huge fan of Coin Fishing, and Money Party is always a stellar performer on the Eilers reports. We are building the brands and adding more themes – taking what worked and tweaking them to make them better, and to keep them fresh. And that's the main thing casinos want – fresh games on their floors.
We are also excited about our NBS platform. The cool feature on there is the biometrics. Everything's done off your fingerprint or facial recognition, so casinos will soon be able to get away from cards and bill validated printers. You don't need any of that. You put your money on your fingerprint, go up to any machine, play, go back, cash out, and go home. It's just getting approved in North America. It's powerful and it's coming. We actually sold it to our friends at the U.S. military, and we've installed the first two bases – one in Germany and one in Italy. They love it and the reception has been phenomenal. In the U.S., we will also bring this technology into table game tracking, and the technology can be used to do age verification too.
Derik Mooberry, CEO
Zitro USA
zitrogames.com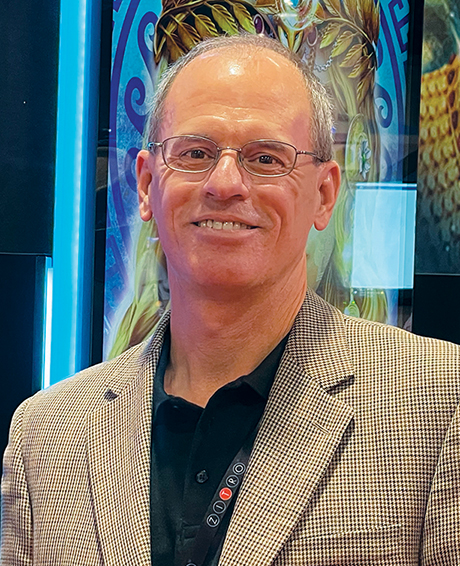 The tribal market is almost 100% of our focus right now. At G2E, many tribes came through our booth and the feedback was fantastic. This year's G2E was kind of a start for us because it was really our first G2E as now a U.S. company. We've attended G2E in the past, but always as an international company. And now, we are actively entering into markets in the U.S., and the feedback has been great.
At the IGA show, we launched our Glare product line, and what people then saw at G2E was an extension of that, and featuring a lot more games. The size of the booth at G2E was nearly double in size and included a total of 64 games. Visitors could see the depth of the Glare lineup, and the big addition from there, was the new Illusion cabinet, which is our newer version of the Glare. This features a 49-inch ultra-high definition curved screen, which we showcased with several different sign packages. We've had tremendous feedback on this from customers, and we also continue to push the Altius. Some new games that we didn't have earlier this year include the new Seven Chests game that we've seen tremendous success with internationally.
These products were the real highlights for us at the show, but as a general rule, everything has been great for us and we've been overwhelmed by the comments and the feedback from people. We couldn't ask for anything better.
link