Deep in the maze-like white corridors of the A.V. Williams Building, gentle tides wash up driftwood and crab shells; oppressed workers rise up against a surveillance state; and aspiring pop stars perfect their recordings in a studio.
"This is pretty sick," said Marilyn Ortega '24—in the best sense of the word, of course—as she offered feedback to peers presenting their art installations and interactive games.
They weren't being created for a class or for an internship but for the Immersive Media Design (IMD) program's New Works Incubator, an eight-week summer program that gives any University of Maryland student a chance to try out emerging technologies and develop unique, offbeat projects.
"Students really take the opportunity and run with it," said IMD lecturer Jonathan David Martin, who developed the incubator in 2021.
IMD, a major that debuted the previous fall and now has 122 students, encompasses augmented and virtual reality (AR and VR), motion capture, 3D scanning, audio and video editing, and more. All have creative and real-world applications, such as immersive video games or simulated surgeries for physician training.
"A lot of classes don't have time to focus in on how all of this tech works, so we're able to go a little deeper with equipment or software over the summer," said IMD Lab Manager Ian McDermott, who led the program this year.
[Alum and Faculty Member Star in Broadway Production of 'Life of Pi']
The incubator draws students from across campus, though most are computer science and art majors. They attend two workshops per week on different tech topics in June, then work on their projects and get peers' and mentors' feedback throughout July, culminating with a presentation at the end of the month. In the fall, some are invited to showcase their work at The Clarice Smith Performing Arts Center's NextNOW Fest.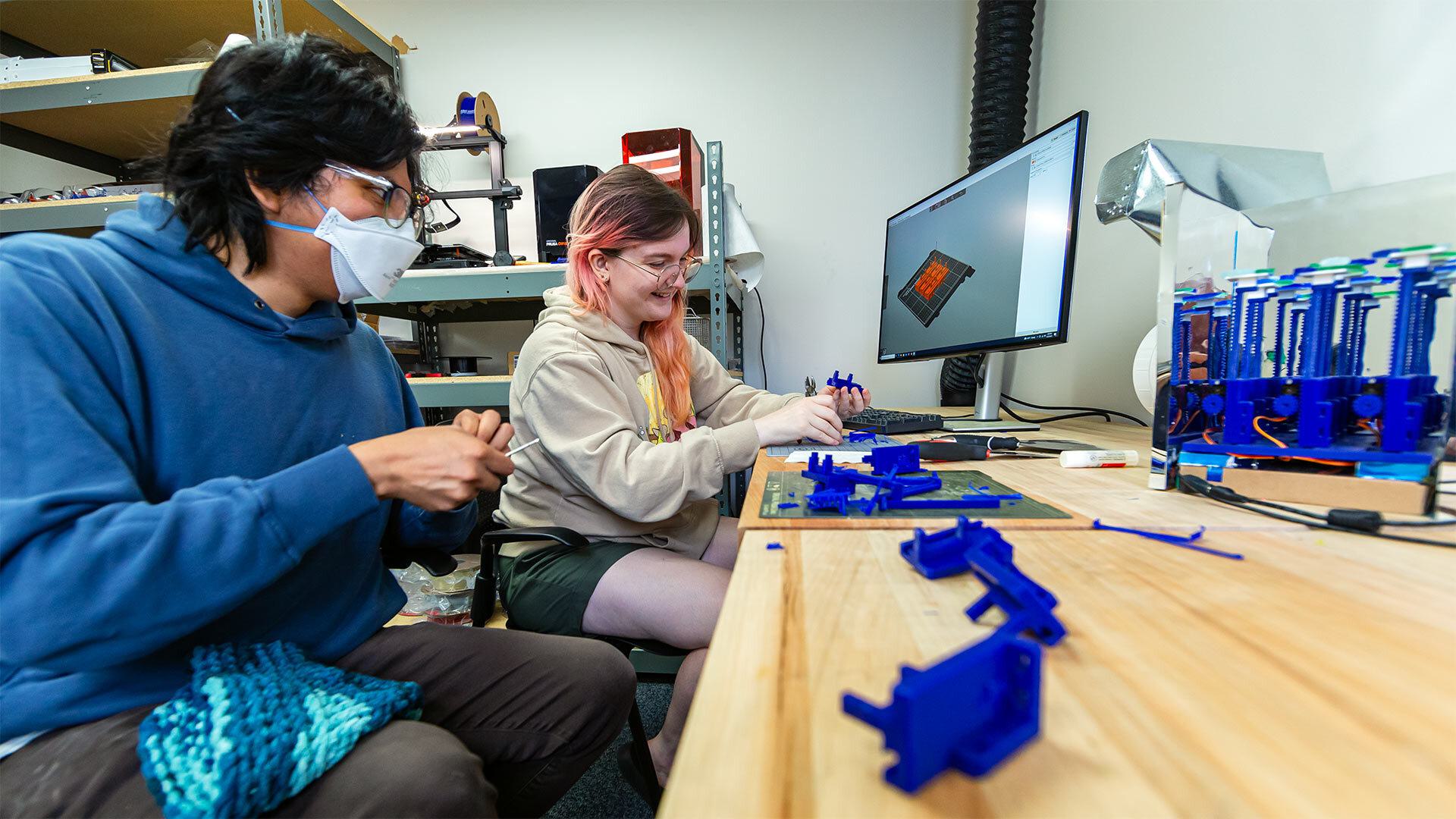 Brayan Pinto '24 and Isabelle Klimanov '24 work on 3D-printed parts for their New Works Incubator project, which simulates the rippling of water droplets through motors.
The incubator is supported in part by the Arts for All initiative, which connects arts, technology and social justice, enabling McDermott to bring in faculty mentors and purchase technology that students request.
"Whatever we want to do, they make possible. It's really fun," said IMD major Malaya Heflin '24, who worked with IMD and computer science major Fiza Mulla '25 and CS major Arti Dhareshwar '25 to develop an AR musical escape room featuring a jazz club, an electronic dance music techno-city and a pop recording studio. To advance through levels, participants solve puzzles using a tablet, identifying famous quotes by musicians or matching a pitch for three seconds.
She hopes to work in game development or for a theme park, and says the incubator is giving her valuable experience.
Other projects ranged from the educational, teaching users how to play obscure instruments like the ocarina, to the political, demonstrating the daily obstacles that Chinese workers encounter in a highly censored state, as well as more speculative approaches.
"I want to immortalize and transform things through digital media," said Jill Stauffer, M.F.A. '25. Living along the coast of Rhode Island after college, they have powerful memories of walking along the shore. They are developing a motion sensor-illuminated exhibit of 3D-printed wave-worn rocks and fragmented shells, with projected videos and sounds of waves washing up on sand.
"I'm honoring the memory of being on the beach, but with a dystopian twist," they said. "What if this is the only way this can be experienced 100 years from now?"
link