Olympic Games 2032 inspires new technologies including world's first flying race car and holographic technology
Imagine feeling like you're running in a race with Olympic legends — without raising a sweat.
Key points:
The world's first flying racing car that takes off and lands vertically is being tested in the South Australian desert
Experts say flying taxis will deliver spectators to Olympic stadiums, while smart technology will monitor the crowd's emotions
Holographic technology could see spectators speak to Olympic stars and race former sports stars
Or experiencing nerves on a diving tower before acrobatically plunging into a pool — but not getting wet.
Perhaps a spin in a flying racing pod is more your style (think Star Wars meets The Jetsons).
As Brisbane heads towards the 2032 Olympics, these are the technologies that are not only likely to be in play, but in nine years, may actually be commonplace.
John Persico, a director with the Australian Sports Technologies Network, bubbles with enthusiasm about the innovations he says will enhance the spectator experience, alleviate transport woes, enhance security, shine a light on potential new sporting competitions and ensure our athletes are hitting their peak performances.
"I define sports technology as the intersection of data, digital and technology at the intersection of sport, entertainment, media and health," Mr Persico said.
"It's one of the most exciting areas for the 2032 Olympics, the ability to be able to create jobs, to create new opportunities and to create an extraordinary experience for the largest sporting event in the world.
"We've got a really strong local industry with 650 companies in Australia doing sports innovation-related activities across 35 different categories. It employs roughly 14,000 Australians right now … a number of other companies have gone on and taken the world by storm."
Video tech analyses how athletes move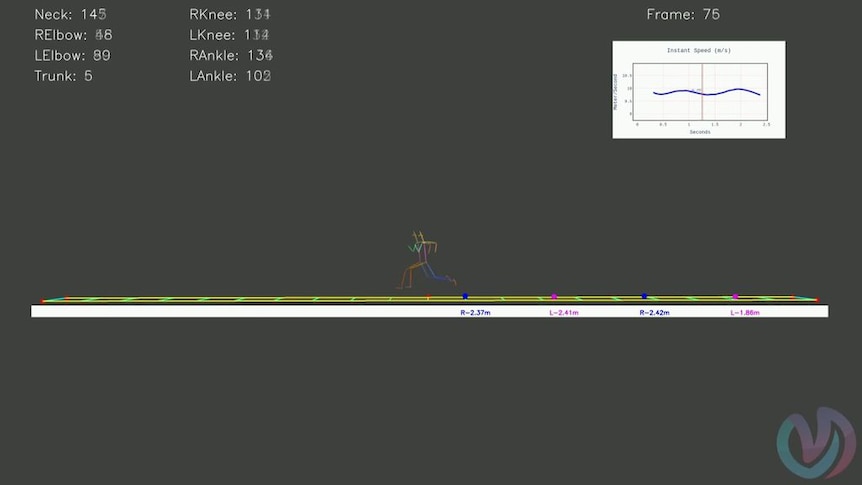 Sydney company, VueMotion, is using mobile phone technology to identify raw athletic talent and enhance the performance of sports professionals.
"We utilise the video from a smartphone device … we capture how people move in a natural environment, how they move throughout time and space outside of a lab, unencumbered by sensors and devices," CEO Ryan Talbot said.
"That's uploaded into the VueMotion platform, which allows us to be able to analyse how people move.
"We're analysing every angle of every joint in every frame of video of how a person moves and how they run.
"So it really helps the athlete by understanding how they move and it helps also the coaches, the strength and conditioning coaches and medical staff get an understanding using objective data."
Mr Talbot said his team has already begun working with athletes in Australia and overseas, and has helped AFL and NRL teams with performance and rehabilitation from injury.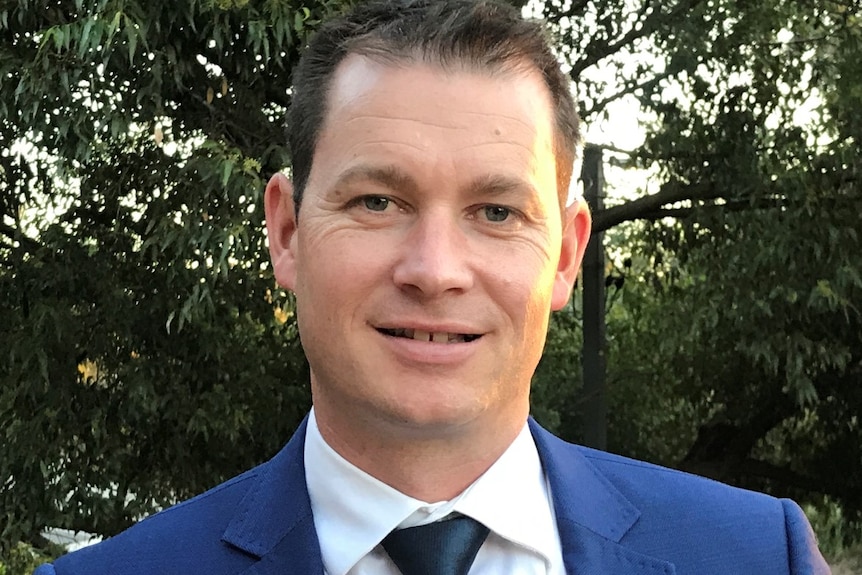 "A number of the top teams are now able to track how their players moved on a weekly basis to be able to look at if there are any red flags and where there are opportunities for improvement," he said.
"Those little one percenters make a big difference when it comes to performance, just being able to accelerate better, get to the ball faster and look at the 100 metre Olympic final.
"There's less than a metre-and-a-half between the winner and sixth place."
The technology is also being adopted in sports programs at schools.
"It's really helping us to identify talent because we see that they're our future Olympians," he said.
"Being able to get in early to work with students and grassroots sport at an early stage, that provides a huge advantage where we can start utilising the technology to be able to work with them over time."
The world's first flying racing car
Adelaide-based company Airspeeder was set up in 2016 to answer founder Mark Pearson's question, "Why have I not got a flying car yet?".
With plans to establish the world's first flying racing car production facility in South Australia, the company is already bringing spectacles of the big screen to life.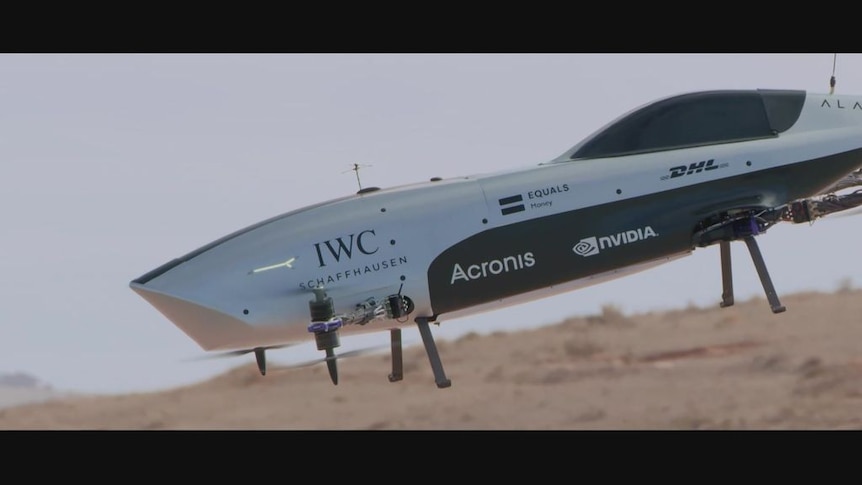 "It is the future, it is pod racing in the sky… it's Star Wars," the company's head of media Stephen Sidlo said.
"We're not a plane, and we're not a drone… we're a whole new transportation system," he said.
"This is what they call an eVTOL (electric vertical take-off and landing) aircraft… it can go in multiple directions and dimensions."
Testing is taking place in the South Australian desert.
"Once we've built and tested all these flying cars, and we've done a number of races, we're going to move to a live broadcast model," Mr Sidlo said.
"And that will open up a lot of opportunities for the world to see what we've been doing in South Australia."
There are plans to use augmented reality (AR) that incorporates the flying racing cars in immersive gaming worlds.
Having flying racing pods — or racing drone leagues — as a demonstration sport at the 2032 Olympic Games, would be a dream come true, he said. But there's a lot of work to do first.
"We'd love to be at the Olympics and do something there," Mr Sidlo said.
"But the only way we're really going to get there is if we validate what the sport looks like, get broadcasts, get a desire from the audience on what they want to see, and also test this safety system.
"Once we've done that then yeah, we'll knock on the door of the Olympics and see what we can do."
Smart stadiums to monitor crowd emotion
Flying vehicle technology is likely to have other purposes at the 2032 Games too, providing drone deliveries and air taxis to ease transport pressure on the ground.
John Persico doesn't believe we'll all be driving to the stadium in 2032.
"I think that we might be looking at various types of drone technologies that might take large amounts of people," he said.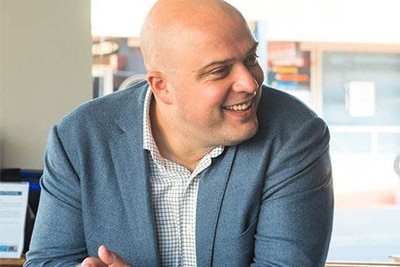 He also believes that the fan experience — live in the arena or via broadcast at home — will change significantly.
"The actual fans are going to have a plethora of data, and customised in truly personalised ways," he said.
For a start, he said stadiums will become "smarter" by being able to monitor and adjust light and sound levels, and also track the emotion of the crowd — gauging patches of "enthusiasm" and potential pockets of "trouble" so police could be alerted quickly.
Intelligent wayfinding (through computer vision and artificial intelligence) could help direct crowds away from queues and to their seats — alerting spectators to better seating that may have been left vacant, or where to stand to get a hi-five from an athlete.
"You can also use technology to order food and drink more cleverly, whether that's through drones or just knowing which line to go to in the stadium at a particular time," Mr Persico said.
Holograms to bring Games to spectators' homes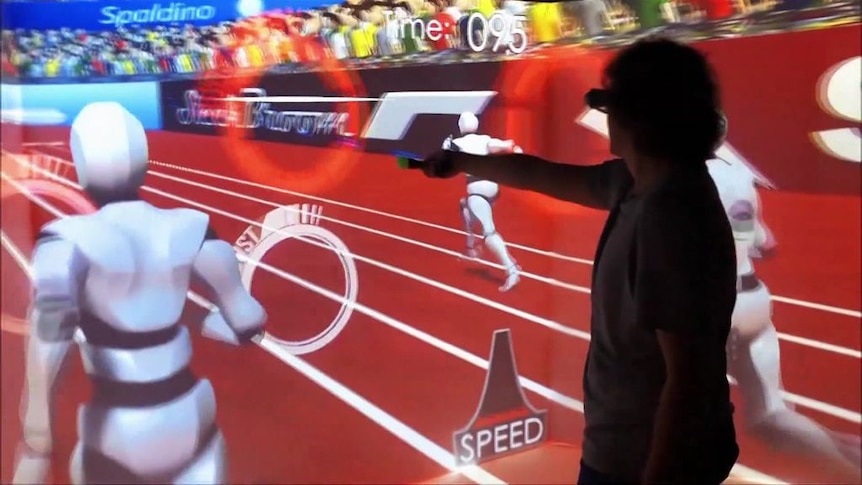 For viewers watching from home, "there'll be an ability to 'be' in stadiums across the world using virtual reality holographic technologies," Mr Persico said.
In other words, through the use of virtual reality, spectators could experience the atmosphere of a real seat in a real stadium while watching an event in real time — except they'll actually be in their lounge room.
Bruce Dell is imagining how holograms could enhance the visitor experience at the 2032 Games.
He is the brains behind a Brisbane company that has spent years developing hologram technology that was affordable and accessible for more people.
"We found ways of solving the problem of multiple users seeing holograms by bending light through special crystals," Mr Dell said.
"I know that sounds all very bizarre but in fact, it's all to do with the eyes of insects, and how a bee sees a flower.
"You see just a white flower but the bees see all sorts of patterns. They're on a different light wave spectrum.
"We took that from nature and we were able to turn it into new ways of making multiple-user holograms."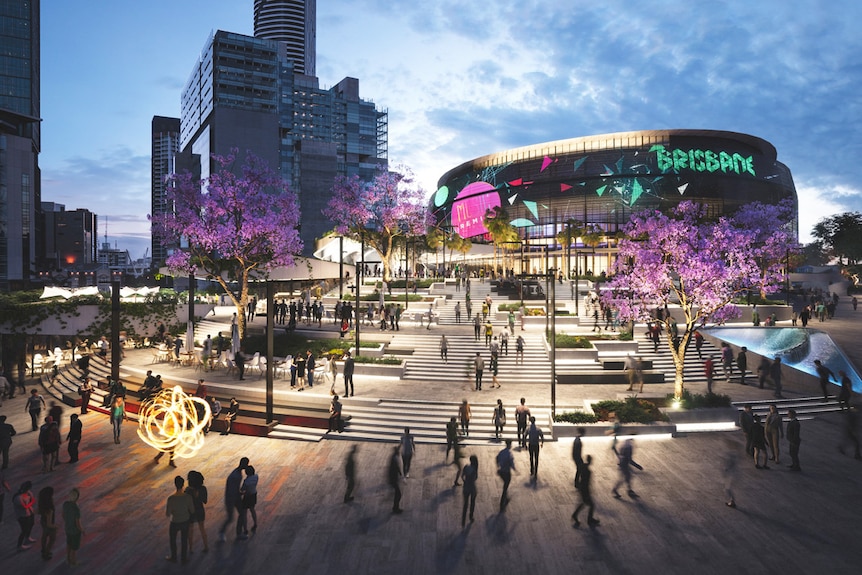 Axiom Holographics is now a world leader in hologram technology, supplying products used by global leaders and businesspeople.
Already the team has developed ways for users to take part in holographic Olympic sports including weightlifting, table tennis, diving, archery, shot put and athletics.
Mr Dell's 2032 Games vision includes showcasing Australia's vast landscape and wildlife.
"Australia's such a big country, and guests are coming out from overseas and don't really have the ability to appreciate it all in a short time frame, so using hologram technology we can show different places all over Australia," he said.
'LeBron James versus Steph Curry'
His team is currently working with Olympians, and their medals.
"Stage one was to take some of the medals that were won in the last Olympics and turn those into holograms. When you make them big and have them sort of spin around, people can appreciate them a lot better," he said.
Stage two is making holographic copies of the athletes themselves — and have them able to answer questions.
"So you can have a conversation with their holographic copy," Mr Dell said.
Mr Persico believes computer technologies will enable fans to take part in Olympic and Paralympic events, and even race against sports stars of the past.
"I believe it is genuinely possible by 2032 for 1 billion people at the same time to take part in the 100 metre sprint, doesn't matter what time zone they're in… I truly believe there will be gamified ways that everyone in the world can be part of something," he said.
"Different types of computer vision technology are going to enable us to, even within the next couple of years, to bring past athletes to life.
"What would you say if you said that it was Wilt Chamberlain versus Michael Jordan versus LeBron James versus Steph Curry? There's no reason in an augmented game that they couldn't automate all their statistics all in one play."
With innovation and development, all of the ideas and technologies currently on the table for Brisbane 2032 could evolve into something even more immersive and out of this world.
And that doesn't take into account the possibilities that haven't been dreamt up yet.
link