The Zhejiang provincial government's two year-plan (2022-2024) focuses on building Hangzhou – where Alibaba Group Holding (owner of the Post) is headquartered – into a trailblazing AI city. In the works are a "
city brain
" to augment the application of AI in social welfare and digital governance, and industry standards on data usage.
Applying big data analysis to commercial activity can also help the authorities spot the growth points and even help the energy transition.
For instance, the Hangzhou Hubin shopping district's data monitoring system, which uses 5G and AI technologies to evaluate customer flow and analyse it for the most effective business recruitment strategy, identified
electric vehicles
(EVs) as the most "effective" businesses.
As a result, seven EV brands were invited to set up shop. Last year, revenues at the three best brands exceeded 12 billion yuan (US$1.65 billion). In response to the flourishing EV market and in anticipation of needs at the Asian Games, Hangzhou has installed many EV charging stations, including a wireless one.
Such infrastructure is essential in the energy transition. In this way, Hubin's data-driven commerce model has helped to boost EV adoption and expedite the hitting of net zero goals.
As digital transactions proliferate in Chinese cities, free public charging facilities for mobile phones are also emerging. In Hangzhou, people can enjoy the convenience of charging their phones while resting on a roadside bench or waiting for the bus.
Such innovations not only enhance user experience but also improve business efficiency. The proliferation of digital transactions in China over the past five years is estimated to have reduced paper waste and carbon emissions by over 1.8 million tonnes, contributing to a greener economy.
Hangzhou has also been using AI to upgrade its public infrastructure. Based on real-time AI analysis of traffic patterns and commuter movements and needs, the city launched a "blue bus" service for Dingqiao, its most populous district. These electric buses eschew fixed routes and rely on AI to adjust their routes in real time. Already, the service has helped to curtail traffic and increase urban efficiency – all while using renewable energy.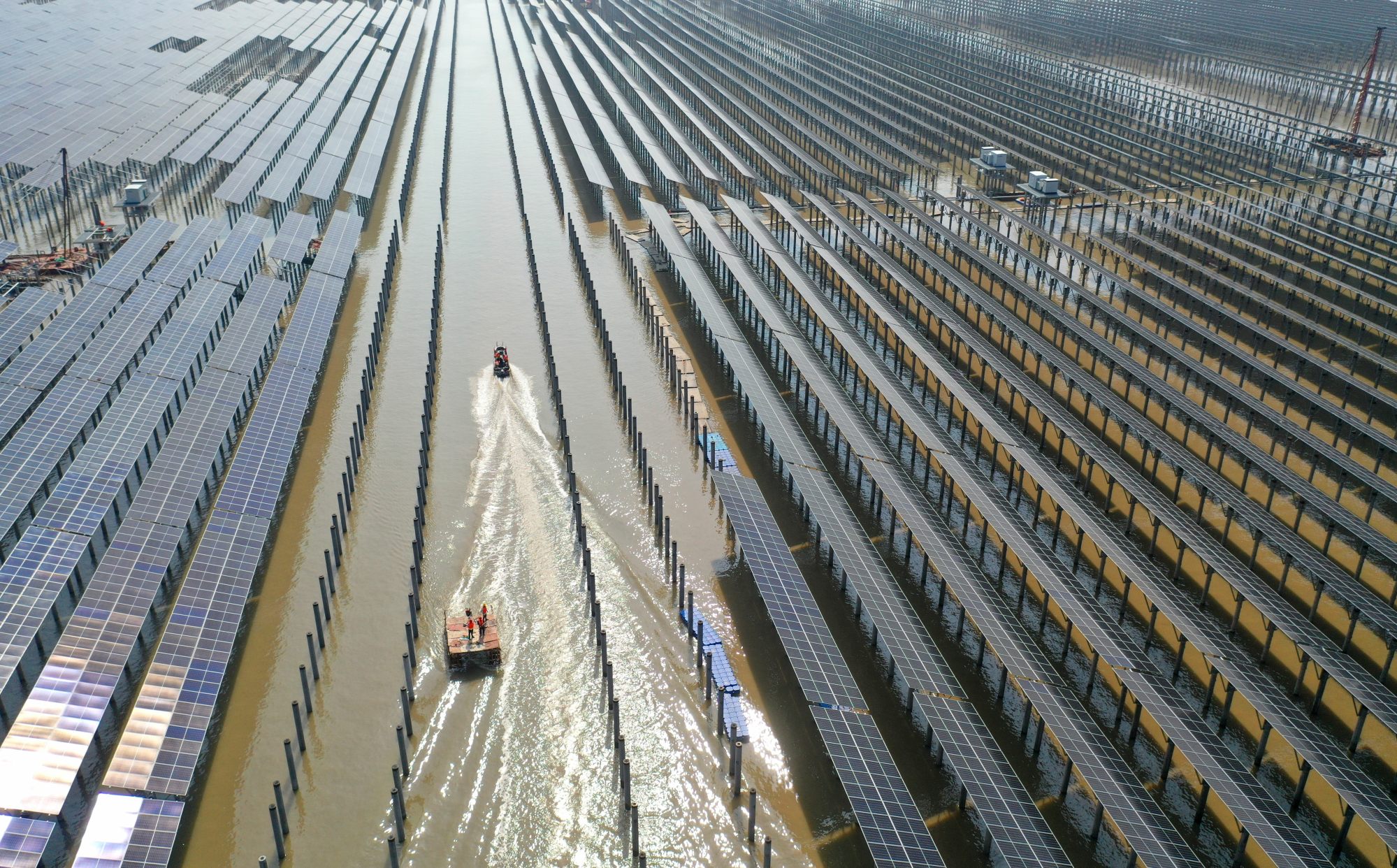 Hangzhou's car parks are also offering a smoother experience with automatic fee collection, through AI sensors that can recognise the licence plate and link up with driver's payment provider. This has cut the time spent getting in and out of car parks, a common source of irritation in densely populated cities.
Information boards around the city also feature LED screens powered by AI and the global positioning system (GPS), with chatbots that can respond to questions and give detailed directions. Destinations are located on a map displayed on the big screen that also shows nearby restaurants, shops, office buildings and other facilities. Electronic road signs can even turn to point out directions to aid navigation, showing the distance to the destination.
Last year, China's Ministry of Ecology and Environment introduced a pilot smart monitoring plan. Hangzhou's AI laboratory for environmental monitoring is part of this pilot and looks to automate water quality controls to cut energy consumption. Some residential areas in Hangzhou have also adopted rainwater collection systems to recycle rain for cleaning and to water plants.
By integrating the latest technology into people's daily lives, Hangzhou is offering new solutions for sustainable living.
In response to climate change and the
increasing frequency of extreme weather
, the Hangzhou government also plans to strengthen disaster preparedness – using AI technology. It is encouraging research collaborations across sectors and aims, by 2025-2027, for the city's meteorological system to be able to forecast extreme weather patterns a month in advance, and predict climate anomalies a year ahead.
Meanwhile, the educational sector is responding to the opportunities and challenges of AI. Provinces such as Zhejiang and Guangdong are pioneering the teaching of AI technology in schools' information science classes.
Why many in China see AI as a force for good
By teaching the responsible use of AI, schools aspire to foster a generation that will not only be tech-savvy but also uphold
strong tech ethics
. A balanced AI education with both technical and social perspectives will prepare future industry leaders to deploy technology equitably.
In the fast-evolving realm of AI development and application, the true measure of success will not be in the sophistication of the algorithms, but in how equitably the technological benefits are distributed. The systematic incorporation of AI into public infrastructure holds the promise of uplifting communities and driving societal progress.
It's imperative for more governments around the world to take a proactive approach to AI, to invest judiciously and forge strategic collaborations with the private sector. By doing so, we can ensure that AI, a potent tool of our age, can guide an equitable future of inclusion and shared prosperity.
Gerui Wang is a visiting scholar at Stanford University
link