There may not yet be an outright killer app for Sony's second generation VR kit, but much fun can be had with these 10 titles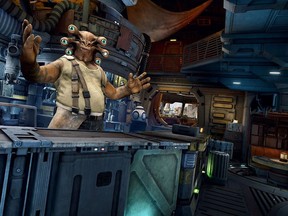 Article content
Sony Interactive Entertainment Inc.'s second generation virtual reality system, PlayStation VR2, is now available and the reviews are in. It's a great piece of VR kit that's easy to use and has immersion-enhancing tech like eye tracking and advanced haptics. 
Article content
But new game hardware means nothing without fun games. And while PS VR2 doesn't quite have a killer app at launch, there's still plenty of fun to be had.
Whether you choose to try new VR modes in existing PlayStation 5 games like Resident Evil: Village or opt for a game designed explicitly for virtual reality like Sony's own Horizon Call of the Mountain, you're bound to find a PS VR2 game that'll sink its hooks into your head. 
Here's a quick roundup of 10 games Post Arcade got to try while evaluating Sony's new virtual reality platform.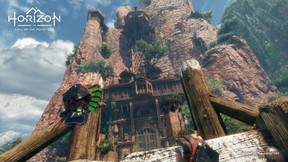 Horizon Call of the Mountain
(Guerrilla Games, Firesprite)
It's not quite a reason to buy a PS VR2 kit, but if you do choose to invest in Sony's new virtual reality hardware this adventure set in Guerrilla Games' far-future dystopia — in which tribal humans coexist with massive machine animals — is pretty clearly the first game you should buy.
Article content
It trades in the series' traditional third-person perspective so you can see out of the eyes of Ryas, a seasoned climber and archer on a mission to scale an enormous mountain that's harbouring a new threat to the people of the Sundom. Not only is this one of the prettiest VR games I've yet played, it also takes full advantage of everything PS VR2 can do, from eye-tracking assisted archery to clever use of advanced haptics to simulate the sensation of movement while climbing. Plus, you can intuitively interact with just about anything you can see — like grabbing a randomly found brush, dipping it in some dye, and using it to freely paint on a cave wall.
Horizon Call of the Mountain is under 10 hours long, but you'll likely keep booting it up long after you're finished as you use it to demonstrate PS VR2 to your friends. The opening scene in which players sit in a boat moving down a stream surrounded by huge machines is just wild.
Article content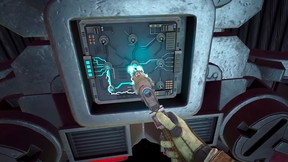 Star Wars: Tales from the Galaxy's Edge
(ILMxLAB)
Sometimes you just want to shoot searing hot blobs of plasma at people. That's exactly what you get to do in this VR shooter, which puts you in the shoes of a freighter jockey who crash lands on Bakku. The guns are a blast to use — we get to do fun physical things like pull back on a release switch to vent gas when they overheat — and we can interact with all manner of Star Wars-ian gadgetry along the way, from hot wiring control panels to tinkering with wrist computers. Bonus: Voice talent includes the likes of Frank Oz, Anthony Daniels and Bobby Moynihan.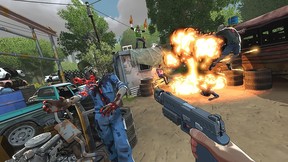 Zombieland: Headshot Fever Reloaded
(XR Games)
Based on the hit Zombieland movies, this one sees the player's character joining up with Tallahassee, Wichita, Columbus and Little Rock to slay undead in a comical apocalypse-themed competition. It's a pretty standard on-rails VR shooter where your only objective is to perforate shambling zombies before they reach you, making sure to do the franchise's patented double-tap when appropriate. Levels are short and sweet, punctuated by quick breaks in a lobby where you can chat with your new pals and upgrade your weapons. Basic, but fairly well done.
Article content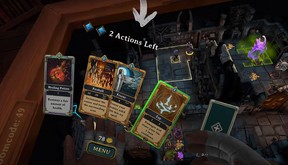 Demeo
(Resolution Games)
I've spent more time with Demeo than any other PS VR2 game. It's a turn-based dungeon-crawling role-playing game that players experience from the perspective of someone playing on a big table in a basement. You can walk around the table, reach out to move pieces, and naturally twist your wrists to review action cards held in your hand. Games can be enjoyed alone or in the company of online friends whose avatars join us at the table. Wickedly clever in concept and execution, I just wish it gave us a full campaign in addition to its one-off missions.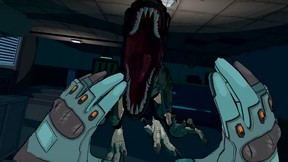 Jurassic World Aftermath Collection
(Coatsink, Universal Games)
Among the more traditional games available for PS VR2 at launch, this adventure has players exploring an abandoned Isla Nublar research facility, hunting for information while avoiding velociraptors and a tyrannosaurus rex. You'll spend your time exploring and solving simple puzzles — like throwing switches to restore power to various parts of the facility — and fleeing/hiding to keep from being eaten. The look of the island and buildings is a bit bland thanks to simple textures and endlessly repeated object models, but being stalked by huge dinosaurs in VR is pretty terrifying.  
Article content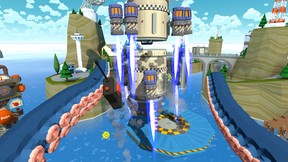 Tentacular
(Devolver Digital)
A weird and whimsical romp, Tentacular puts players in the body of a many-tentacled deep-sea titan who learns at the game's outset that it is not human but instead has been adopted by the people it lives amongst. Hoping to better fit in, the titan gets a job. It uses its tentacles and strength to aid the tiny humans in various tasks, from cleaning up shipping containers to smashing stuff that needs smashing. It's all very intuitive, requiring us to move our arms and grab things with our hands in natural ways. More of a fun and funny distraction than a full-fledged game, but it might be worth a shot if you've an extra $33 to spend and a hankering for something odd.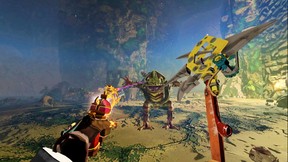 Cave Digger 2: Dig Harder
(Perp Games)
Article content
There's something about the core play loop in this relatively straightforward shooter that I found moderately compelling. You'll enter a mine and swing a pickaxe to tease metals, crystals, and minerals out of the walls of the cave, then grab the loosened ore with your hand and make a motion of moving it over your shoulder to place it in your pack. You'll also need to be ready to draw your gun and shoot the strange creatures protecting the loot. Then you'll ride back up to cash in your haul before picking a new mine and doing it all over again. It's another example of a VR game that feels a little more like a tech demo than a fully realized experience, but it had me digging and shooting for several hours.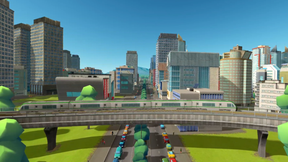 Cities: VR – Enhanced Edition
(Fast Travel Games)
Article content
If you want to know what a city simulation game feels like in virtual reality, Cities: VR is a good place to start. On the plus side, the sense of scale and immersion is unexpectedly awesome. I felt like I was an invisible god hovering over the city as I moved around and commanded buildings and utilities to be constructed. On the downside, the developers don't seem to have quite figured out the interface. Surfing through wrist-mounted menus to find and select the stuff you want to build is a little awkward, and moving around the world is more cumbersome than I'd like. It's one of those games I'm happy to have tried, but probably won't end up spending too much time with.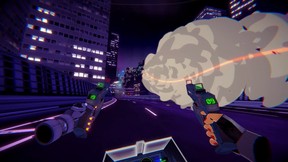 Runner
(Truant Pixel)
We all have our physical limitations, and when it comes to VR I found mine in Runner, a cyberpunk driving action game. The driving part, in which we careen down highways on a futuristic motorcycle, is fairly easy and intuitive. Just wiggle the joystick to steer and control speed. It's shooting guns while driving that kicked my butt. We've got two weapons, multiple ammunition types to toggle between, and reloading is tricky. Plus, there are times when you'll need to switch to a blade or use grenades. And split-second reflexes are vital. I'm too old and lack the hand/eye dexterity to do all of that in the time allowed. It took an hour for me to beat the first level. Suffice to say I've got a whole new level of respect for Tom Cruise.
Article content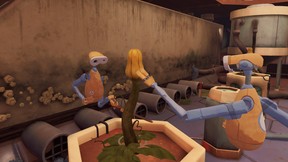 The Last Clockwinder
(Pontoco)
Puzzle games are a great fit for VR, and The Last Clockwinder is one of the best I've yet encountered. It puts us in the roll of a woman attempting to fix a giant clocktower. She has a special set of gloves that can summon robotic clones that repeat our physical actions. When you encounter a machine that feels as though it requires more hands to operate than you have, just record yourself doing each needed task so that a robot can repeat it for you. It's a challenging little adventure with a surprisingly chill vibe — the perfect way to spend a lazy weekend in virtual reality.
link