Salsa Technology adds the "Brazilianness" of Copacabana Games to Salsa Gator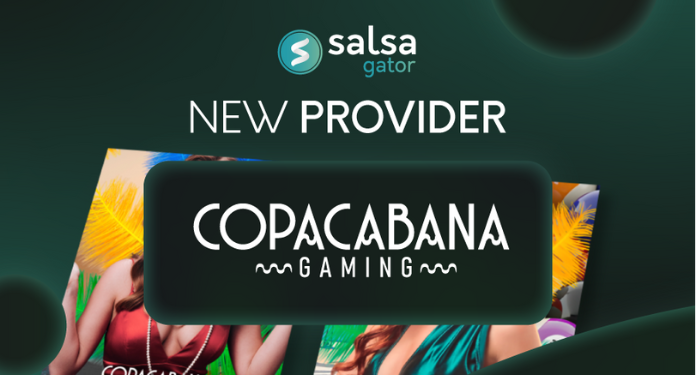 Salsa Technology announces the addition of games from the Brazilian company Copacabana Games to the offer of its Salsa Gator aggregator.
Copacabana Games is a 100% Brazilian live casino studio made to meet the growing demand for more tropicalized games with an outstanding entertainment experience.
In this first moment, the provider offers two types of live games: Roulette and Bingo, always with native hosts who speak Brazilian Portuguese, generating engagement and loyalty for partner casinos.
While Brazilian Roulette is available immediately to all Salsa Gator partners, Bingo ao Vivo has an exclusive avant-premiere on Betmotion during the month of September with launch for the other operators scheduled for October 1st.

Salsa Gator has earned a reputation for offering a huge and diverse collection of casino games from top game providers that are proven to deliver results in Latin America.
The addition of Copacabana Games titles further expands the platform's localized offer.
Head of Marketing & Sales at Salsa Technology, Eliane Nunes, said: "The famous boardwalk of Copacabana Beach is one of the great Brazilian symbols and the team at Copacabana Games has ensured that their live casino portfolio is bursting with Brazilian energy."
"We are sure that this latent Brazilianness will make these games an instant success among our customers", completed Eliane.
Copacabana's CEO, Andre Schuartz, added: "Copacabana Games is an ambitious project that has the tropicalization of casino games as a cornerstone of its operation".
"And as we know that location is also a mantra for Salsa Technology, we are very excited to work side by side in this partnership", concluded Schuartz.
About Salsa Technology
Salsa Technology is a leading B2B company that develops regulatory-ready solutions for the iGaming industry, especially in Latin America and Brazil.
Salsa provides a customizable and scalable iGaming platform (Salsa Omni) with integrated bookmaker and agent management system, as well as a game aggregator (Salsa Gator) that features over 5,000 titles from over 80 providers, including a portfolio of games localized video bingo games developed by Estúdio Salsa.
Through its consulting and services hub, Salsa offers solutions such as customer support, marketing intelligence, license consulting, among others.
link