On both services, stability is variable but generally good. On both my home Wi-Fi and 5G mobile I've had play sessions where you can hardly tell it's streaming at all, but also some completely unplayable sessions (notably when my home network is especially congested, or if I try to play on the train which is usually not worth it).
Most often, you get the occasional stutter or a bout of pixelated artefacts. It's not much different to streaming video in that regard, except the interruptions can get your character killed or make you drive your Bugatti into a stack of tyres.
The Netflix factor
Early in the cloud streaming discussion, much was made of the idea that any person would be able to click a link, or an ad, and instantly be thrown into a game. Google was understandably keen on this idea given its potential use in YouTube, and it built an entire game streaming business called Stadia, complete with its own internal game development studio. A few years in, it all-but abandoned this endeavour.
But another streaming video pioneer appears to be taking a longer view, with Netflix gradually building up its capability to deliver games along with movies and shows. It began in 2021 by offering select mobile games that its subscribers could access. It also acquired a number of game development studios, and built a couple of its own.
In August, it began a limited test with a small number of users in Canada and the UK, which lets them stream Oxenfree (a hit indie adventure game from 2016 made by Night School Studio, which Netflix now owns) to their TVs.
Loading
"Our goal has always been to have a game for everyone, and we are working hard to meet members where they are with an accessible, smooth, and ubiquitous service," said Netflix's games boss Mike Verdu, in a blog post. "Today, we're taking the first step in making games playable on every device where our members enjoy Netflix – TVs, computers, and mobile."
Having cloud gaming available through popular platforms that people already use will be a huge step forward for the format, but another roadblock will be controllers. Cloud gaming on TVs generally requires a controller paired via Bluetooth, while on phones you can use a controller mount such as the Backbone One, or just use the touchscreen if a given game is built for that. For Netflix, the current test has people using the app on their TV and phone at the same time, with the phone displaying controls.
The PlayStation Portal
Sony is also investing heavily in cloud gaming, although it's taking a different path than rival Microsoft. The company launched a service comparable to Game Pass more than a year ago, but has been very resistant to the idea of including its own games when they first release. It also has a limited cloud gaming service, but it only works with older games included with its PlayStation Plus subscription, only streams to consoles and PCs, and is not available in Australia.
But by putting a few pieces together, we can get a good idea of Sony's plans.
In June, it said it was in the early stages of developing technology to stream PlayStation 5 games from the cloud, meaning if you owned a game you could play it on your console even if it wasn't installed. One obvious expansion of this would be streaming PS 5 games to a PC or TV app, when paired with Sony's Bluetooth DualSense controller.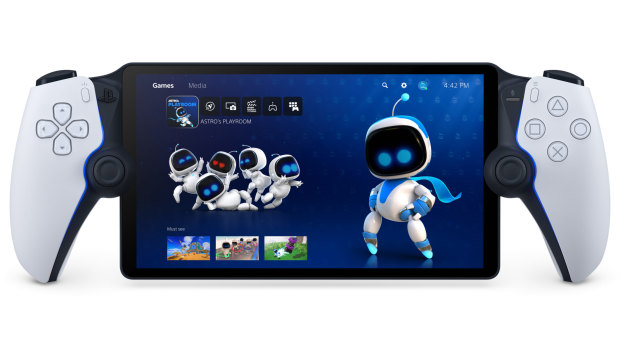 As for mobile use, Sony last month announced the PlayStation Portal, a device that looks exactly like a DualSense cut in half with an eight-inch screen stuck in the middle. In the US it is due to release in November and cost $US200 ($310), though no pricing has been announced for Australia. Sony says the device is purely for remote play, streaming from a PlayStation console over Wi-Fi. But when the company enables PS 5 cloud streaming, it would seem an obvious move to make the Portal compatible so you could play your games anywhere you had internet.
In May, Sony Interactive president Jim Ryan said the company had "some fairly interesting and quite aggressive plans to accelerate our initiatives in the space of the cloud", which could potentially point to a cloud gaming app for smartphones.
Cloud in the near future
Despite the hype, cloud gaming is still decidedly early. Google, Amazon and all manner of telcos and tech companies have dipped their toes in the water and more or less given up when faced with the reality of infrastructure upgrades needed to do it at scale, or the trickiness of developing a monetisation strategy that makes sense. Dedicated gamers much prefer the higher fidelity and lower latency that comes with powerful local hardware, including handhelds. And less dedicated players hardly know cloud exists.
But for some companies, and regulators, the burgeoning sector is full of potential. Fortune Business Insights analysts expect it to be worth more than $130 billion globally by 2030, as availability of cloud services and 5G networks grow.
Loading
When weighing up Microsoft's proposed $100 billion aquisition of Activision Blizzard, maker of Call of Duty, Candy Crush and many others, many regulators worldwide gave the green light. But the UK's Competition and Markets Authority blocked it on the basis that adding Call of Duty to Xbox's already dominant (for lack of competitors) cloud service could give it a perpetual monopoly.
This was a concern in other territories, too, including the EU which was satisfied after Microsoft said its citizens would be granted a licence to play their Activision Blizzard games on any cloud service. In a last-ditch effort to get the deal through, Microsoft last month told the CMA it would sell the cloud rights to Activision Blizzard games to French publisher Ubisoft for the next 15 years, which would include them in its own cloud service, as well as licensing them to Microsoft and everybody else.
Get news and reviews on technology, gadgets and gaming in our Technology newsletter every Friday. Sign up here.
link